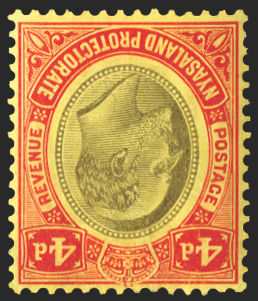 NYASALAND 1908-11 4d black and red/yellow variety, SG76w
Nyasaland 1908-11 4d black and red/yellow, variety watermark inverted, SG76w.
A fine mint example of this King Edward VII variety, with large part original gum. A couple of slightly short perforations mentioned for accuracy, but much fresher than usually found.
Great Britain declared 'British Central Africa' a protectorate in 1891 and started to issue postage stamps. In 1908, the Protectorate was renamed 'Nyasaland', and in 1953 it joined the postal territory of Rhodesia and Nyasaland. Stamps were issued from Nyasaland again In 1963 when it became an autonomous area, followed by Independence (as 'Malaŵi') on 6 July 1964.
The Stanley Gibbons catalogue value is £150.
BUY NOW: Order online, by phone +44 (0)1534 639 998, or via email info@paulfrasercollectibles.com
Payment & Security
Your payment information is processed securely. We do not store credit card details nor have access to your credit card information.