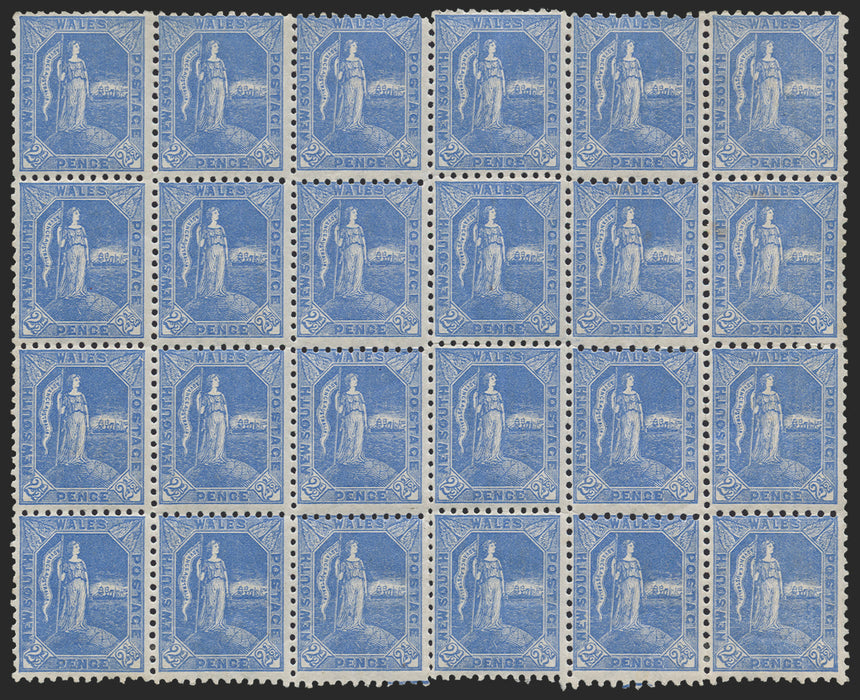 AUSTRALIA NEW SOUTH WALES 1890 2½d ultramarine, variety, SG265/b
Australia New South Wales 1890 2½d ultramarine, block of 24 (6x4) showing two different perforation gauges se-tenant, with the four left columns perforations 12x11½ (comb) while the two columns at right are perforations 11x12 (comb), SG265/b.
A fine mint block of 24 with original gum (two centre rows are unmounted mint). Some gum creasing affecting columns 4 (technically 12x12x12x11½) and 5, and row 2 with some small gum tones, still fine fresh appearance.
A very scarce multiple of considerable technical philatelic interest.
A quintessential stamp issue depicting an allegorical figure of Australia.
Stanley Gibbons catalogue value: £960++.

BUY NOW: Order online, by phone +44 (0)1534 639 998, or via email info@paulfrasercollectibles.com
Payment & Security
Your payment information is processed securely. We do not store credit card details nor have access to your credit card information.