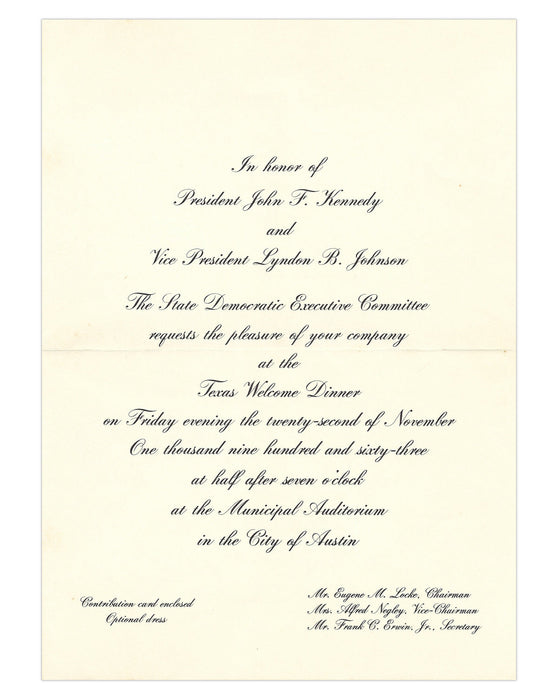 John F. Kennedy 1963 Texas Welcome Dinner invitation
An original invitation to the Texas Welcome Dinner hosting John F. Kennedy
Dated November 22, 1963 - the day he died
John F. Kennedy (1917 - 1963) was the 35th President of the United States of America from 1961 until 1963 when he was tragically assassinated in Dallas, Texas.
A charismatic leader, he is one of the most beloved presidents in US history, and his memorabilia is among the best selling of any former president. 
An original invitation to the Texas Welcome Dinner hosting John F. Kennedy and Lyndon B. Johnson at the Municipal Auditorium in Austin.
Scheduled for the evening of November 22, 1963 – the day of Kennedy's assassination.
Printed on card measuring 7" by 9.75".

The invitation reads in full:
''In honor of President John F. Kennedy and Vice President Lyndon B. Johnson The State Democratic Executive Committee requests the pleasure of your company at the Texas Welcome Dinner on Friday evening the twenty-second of November One thousand nine hundred and sixty-three at half after seven o'clock at the Municipal Auditorium in the City of Austin''.
In good condition, with a single horizontal mail fold and offered with the original mailing envelope, postmarked November 6, 1963.
A superb, poignant piece of U.S political history, from one of America's most iconic Presidents.
Free global shipping. 28-day no quibble returns. Certificate of Authenticity and our Lifetime Moneyback Guarantee of Authenticity included.
BUY NOW: Order online, by phone +44 (0)117 933 9500, or via email info@paulfrasercollectibles.com
Payment & Security
Your payment information is processed securely. We do not store credit card details nor have access to your credit card information.