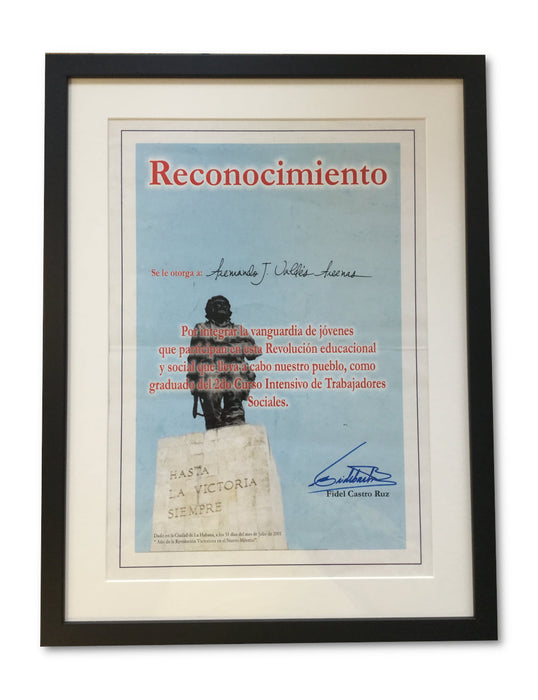 Fidel Castro signed certificate
A certificate of recognition awarded to a Cuban social worker in 2001
Featuring a fine signature from Fidel Castro
Discover more about this incredible item here
Fidel Castro (1926 – 2016) was a Cuban revolutionary and politician who led the Republic of Cuba as Prime Minister from 1959 to 1976, and then as President from 1976 to 2008.
Castro was the architect behind the Cuban Revolution in 1959, which overturned the right-wing authoritarian government and turned the nation into a one-party socialist state.
Castro remains one of the most divisive political figures of the 20th century, revered by many as a champion of social justice and anti-imperialism, and hated by others as a brutal dictator.
Prior to his death in November 2016, Castro was listed on the PFC40 Autograph Index as the world's most valuable living signature, with the price of his autograph having risen 16.9% per annum since 2000.
This certificate was awarded to a Fernando J Valdes Freenas in July 2001 and commemorates his completion of a course in social work.
These large certificates were produced throughout Castro's presidency to recognise the efforts of Cubans in society. This is a particularly good specimen.
Measuring 16.5 x 11.8 inches, it features a bold example of Castro's signature in blue felt tip pen.
Certificate is double matted and custom framed with U.V glass. Display measures 40 x 52.5cm
Click here to discover more about this item
Free global shipping. 28-day returns. Certificate of Authenticity and our Lifetime Moneyback Guarantee of Authenticity included

BUY NOW: Order online, by phone +44 (0)1534 639 998, or via email info@paulfrasercollectibles.com
Payment & Security
Your payment information is processed securely. We do not store credit card details nor have access to your credit card information.