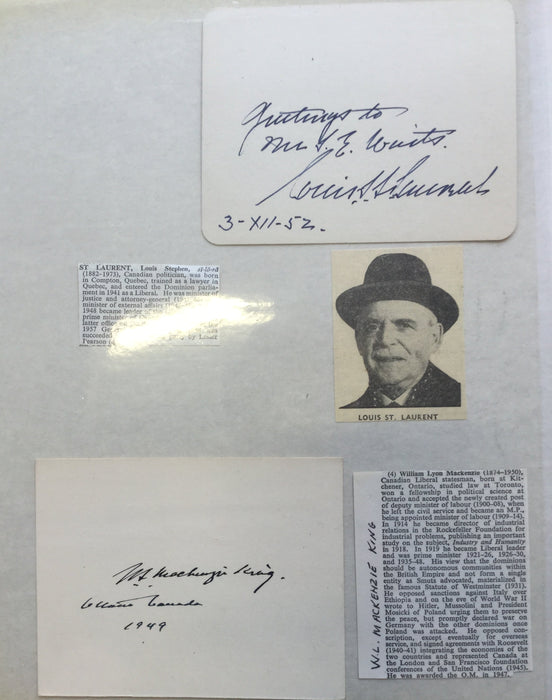 Vintage autograph collection
Dutch Auction Day 6 Price: £248.00
Dutch Auction Day 5 Price: £297.00
Dutch Auction Day 4 Price: £347.00
Dutch Auction Day 3 Price: £396.00
Dutch Auction Day 2 Price: £446.00
Dutch Auction Starting Price: £495.00
A superb collection of 60+ assorted signatures from famous names, including signed photos, letters and cut signatures.
Writers' autographs
Barbara Cartland
Adolphus Trollope
John William
Kingsley Amis
John Junor
Mary Kenny
Ludovic Kennedy
Sports autographs
Geoff Boycott
Boxers Sonny Lee and Mark Champion
Jack Hobbs
Bill Beaumont
Ossie Ardiles
James Bonecrusher Smith
Ray Boom Boom Mancini
Mary Rand, Tony Nash
Bobby Robson
Harringay ice hockey team 1930s
Chris Bonington
Political
Eric Louw - South Africa minister of finance
David Alton MP
David Owen MP
Michael Heseltine MP
Norman Tebbit MP
Edwina Currie
Canadian PMs Mackenzie and St Laurent
Military autographs
Sir Harold Martin
General Pollock x2
General de la Billiere
Ian Macfadyen
14 British TV presenters
Including Moira Stuart, Patrick Moore, Brian Hanrahan, David Bellamy
Comedians and entertainers 20+, including:
Spike Milligan
Bill Oddie
Bruce Forsythe
Charlie Drake
Cannon and Ball
Bernard Manning
Billy Dainty
Dickie Henderson
London Palladium comedians poster (unsigned)
Autographs are in very good condition.
Provenance: The S.E Waits Autograph Collection.
Free global shipping. 28-day returns. Certificate of Authenticity and our Lifetime Moneyback Guarantee of Authenticity included
BUY NOW: Order online, by phone +44 (0)1534 639 998, or via email info@paulfrasercollectibles.com
Payment & Security
Your payment information is processed securely. We do not store credit card details nor have access to your credit card information.