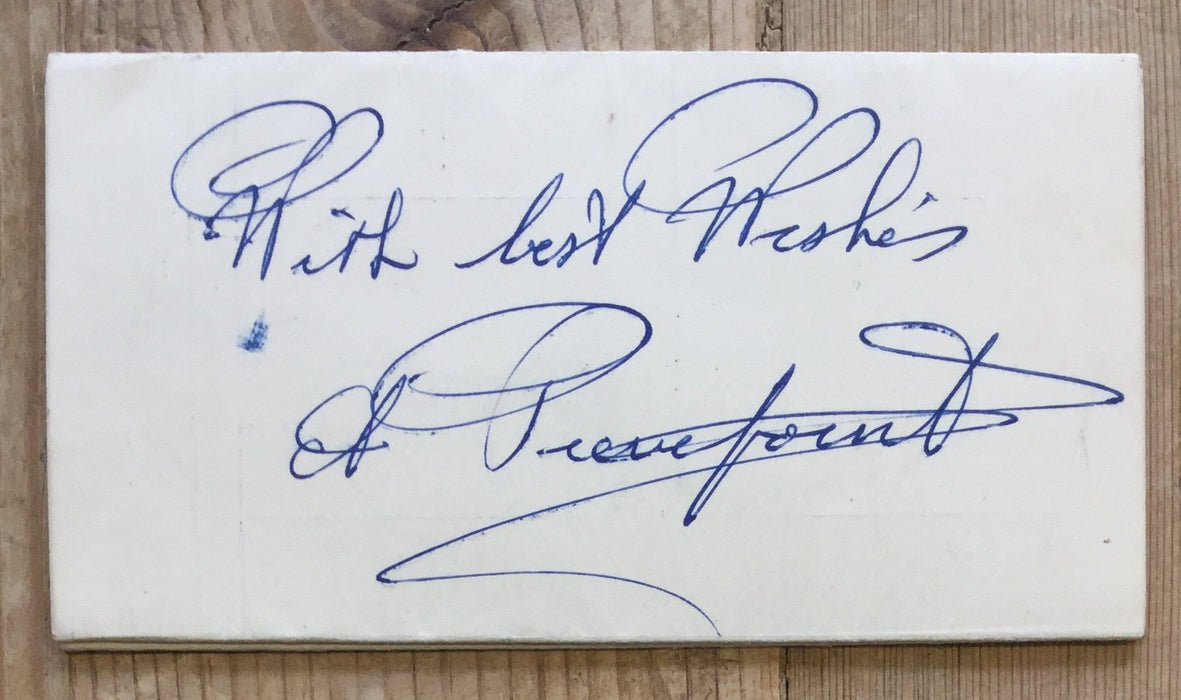 Hangman Albert Pierrepoint signature
A bold ink signature from British hangman Albert Pierrepoint (1905-1992).
Albert Pierrepoint (1905-1992) is the most prolific and most famous British hangman.
Albert executed approximately 600 people between 1931 and 1956 – first as an assistant executioner (1931-1940) and then as lead executioner from 1941 onwards.
Those he hanged include:
Gordon Cummins, "the Blackout Ripper", in 1942
John George Haigh, "the Acid Bath Murderer", in 1949
John Christie, "the Rillington Place Strangler", in 1953
The last woman to be hanged in the UK, Ruth Ellis, in 1955
Traitor William Joyce, better known as "Lord Haw Haw", in 1946
200 Nazi war criminals, including the "Beast of Belsen" Josef Kramer in 1945
Innocent men too succumbed to his noose. Derek Bentley, Mahmood Mattan and Timothy Evans were all posthumously pardoned.
Albert was renowned for bringing compassion and dignity to the last moments of the condemned person's life. Writing in his autobiography, Albert said: "A condemned prisoner is entrusted to me, after decisions have been made which I cannot alter. He is a man, she is a woman who, the church says, still merits some mercy.
"The supreme mercy I can extend to them is to give them and sustain in them their dignity in dying and in death. The gentleness must remain."
A striking ink signature on a foldout City of Manchester "remembrancer" booklet of council meetings, for October 15-19, 1951. 
2.5 x 4.75 inches when folded. 10 x 4.75 inches unfolded. 
Signed "With best wishes, A Pierrepoint" in large blue ink on the reverse.  
Provenance: The S.E Waits Autograph Collection
Free global shipping. 28-day returns. Certificate of Authenticity and our Lifetime Moneyback Guarantee of Authenticity included.
Payment & Security
Your payment information is processed securely. We do not store credit card details nor have access to your credit card information.