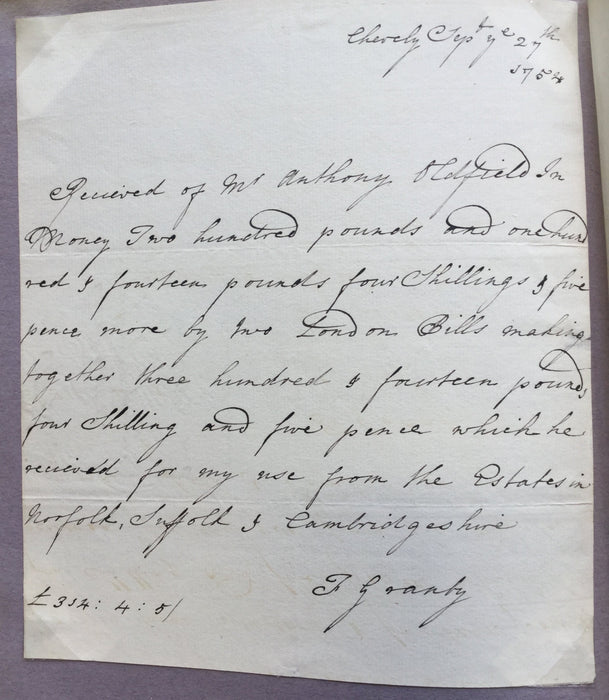 British nobility historical autographs and letters
Dutch Auction Day 6 Price: £975.00
Dutch Auction Day 5 Price: £1170.00
Dutch Auction Day 4 Price: £1365.00
Dutch Auction Day 3 Price: £1560.00
Dutch Auction Day 2 Price: £1755.00
Dutch Auction Starting Price: £1950.00
A fascinating collection of signatures and handwritten letters from 18th and 19th century British nobility
Names include:
11th Duke of Norfolk

3rd Duke of Northumberland

5th Earl of Selkirk

Marquess of Granby

1st Duke of Roxburgh

Duke of Devonshire

James Cecil Salisbury

James Cecil Gascoyne Salisbury

William Nelson (Horatio Nelson's brother)
Letters are in very good condition. All letters are mounted in a modern-day scrapbook.

The collection also features a loose Christmas card from Bernard Fitzalan-Howard, 16th Duke of Norfolk and his wife, Lavinia Mary Strutt.
Provenance: The S.E Waits Autograph Collection.
Free global shipping. 28-day returns. Certificate of Authenticity and our Lifetime Moneyback Guarantee of Authenticity included
BUY NOW: Order online, by phone +44 (0)1534 639 998, or via email info@paulfrasercollectibles.com
Payment & Security
Your payment information is processed securely. We do not store credit card details nor have access to your credit card information.