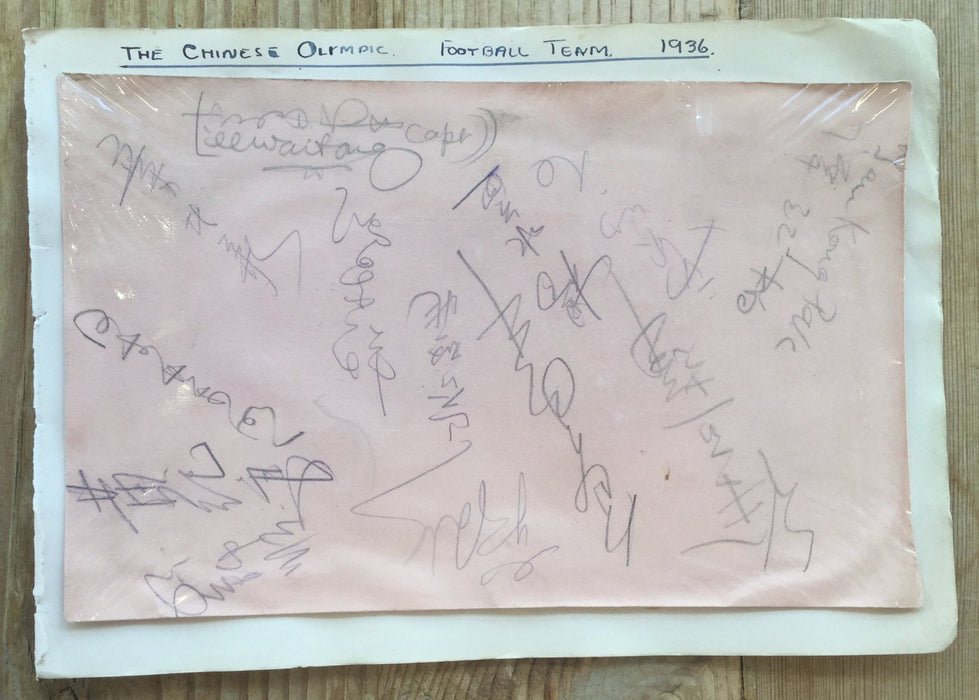 China 1936 Olympic football team signatures
A collection of ink signatures from the 1936 China Olympic football team
The China 1936 Olympic football team competed at the Games in Berlin. They lost their only game 2-0 to Great Britain. 
The team comprised: 
BAO Jia Ping

TAI Jiang Bai

LI  Tian Sheng

CHEN Zheng He

HUANG Mei Shun

XU Xia Hui

YE Bei Hua

SUN Jin Shun

LI Hui Tang

FENG Jin Xiang
CAO Gui Chen
The 7 x 4.25 inch pink card features 14 striking signatures from the China 1936 Olympic football squad. Housed in a protective plastic covering and mounted on thick beige paper.

Hugely rare. Possibly unique.
Provenance: The S.E Waits Autograph Collection
Free global shipping. 28-day returns. Certificate of Authenticity and our Lifetime Moneyback Guarantee of Authenticity included. 
Payment & Security
Your payment information is processed securely. We do not store credit card details nor have access to your credit card information.