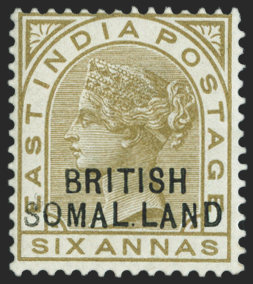 SOMALILAND PROTECTORATE 1903 6a olive-bistre, variety, (UNUSED) SG19b
Somaliland Protectorate 1903 6a olive-bistre, type 1 overprint at bottom, variety 'SOMAL.LAND' from R6/9 and R7/5, lower panes, SG19b.
A brilliant quality mint example with original gum.
An extremely rare and unusual variety as a maximum of only 137 possible.
The Protectorate Post Office was established on 1 June 1903, when control of British Somaliland was transferred from the Indian Government to the British Foreign Office. The first stamps used were the Indian stamps overprinted with "BRITISH SOMALILAND". 
The Stanley Gibbons catalogue value is £225.
Payment & Security
Your payment information is processed securely. We do not store credit card details nor have access to your credit card information.