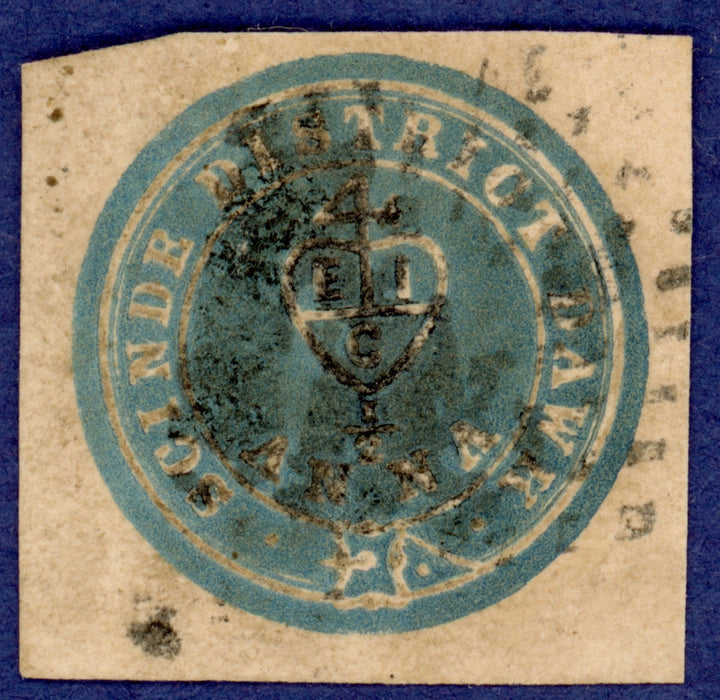 India 1852 ½a blue Scinde Dawk, SGS2
India 1852 ½a blue Scinde Dawk, SGS2.

A fine used example with good margins all round, cancelled by indistinct handstamp. A little smudged though the seal is fine with only one or two very minor faults. Way above average quality and free from the usual blemishes and toning.
Accompanied with a Royal Philatelic Society Certificate of Authenticity (1989).
Stanley Gibbons catalogue value: £11,000.
Further information:
The Scinde Dawk is famous for being the first adhesive postage stamps of Asia. The postal system served the Indus value of Sindh, an area now within present-day Pakistan.
The name derives from the words "Scinde", the British spelling of the name of the province of Sindh, and "Dawk", the anglicised spelling of the Hindustani word "Dak" or Post. The Dak was an old postal system of runners who were paid according to their distance of travel and weight of the letters.
The system was considered inefficient and inadequate to serve the military and commercial needs of the British East India Company after the conquest of Sindh in February 1843.
Sir Bartle Frere was appointed Commissioner in Sindh in 1850. He followed the British example set by Rowland Hill, improving the system by introducing a cheap and uniform rate of postage, independent of distance travelled. In 1851 the runners were replaced with an efficient system using horses and camels following routes through Scinde province, generally along the valley of the Indus river.
The Scinde Dawk stamps were first issued on 1 July 1852 and bore the Merchant's Mark of the British East India Company. The design was embossed on wafers of sealing wax impressed on the paper. They proved ineffective as they regularly cracked and disintegrated and were soon replaced by a colourless design embossed on white paper, which was hard to see in a dim light.
The last of these stamps were a blue embossing on white paper. All of these had a value of ½ anna each. Today, they rank among the rare classics of philately.
Click here to discover more about this stamp.
Payment & Security
Your payment information is processed securely. We do not store credit card details nor have access to your credit card information.