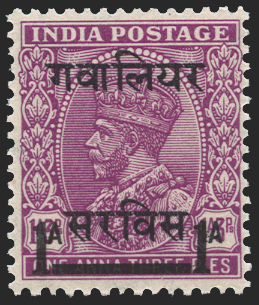 I.C.S. GWALIOR 1941 1a on 1a3p mauve Official, SGO90
Indian Convention States Gwalior 1941 1a on 1a3p mauve Official type O4 surcharge, SGO90.
A very fine and fresh unmounted mint example with full original gum. A difficult stamp to find in such pristine condition.
A most attractive King George VI colonial Government Official stamp issue.
Payment & Security
Your payment information is processed securely. We do not store credit card details nor have access to your credit card information.