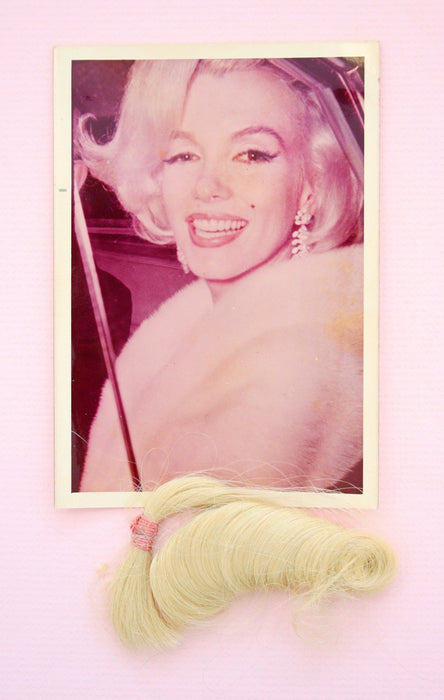 Marilyn Monroe 'Happy Birthday Mr President' lock of hair
A large lock of Marilyn Monroe's hair, from the night she performed 'Happy Birthday Mr President' for John F. Kennedy at Madison Square Garden.

Accompanied by an instant photograph taken at the same event, bearing Monroe's lipstick kiss on the reverse.

Click here to learn more about this item
Marilyn Monroe (1926-1962) needs little introduction. An actress, model and entertainer, she is perhaps the most recognisable of all screen icons.
As such, her memorabilia is highly sought after, and continues to be widely collected across the world.
History of the lock of hair
On the night of May 19, 1962, Marilyn Monroe gave one of the most famous performances of her career, during a celebration for President John F. Kennedy's 45th birthday at Madison Square Garden in New York.
Monroe sang a sultry version of 'Happy Birthday Mr President' whilst wearing a virtually see-through dress, fuelling rumours of a secret affair with the President which have endured to this day.
Just hours before her performance, Monroe visited her personal hairdresser Robert Champion at the Coiffures Americana Beauty Salon, housed within the luxury department store Bergdorf Goodman on Fifth Avenue.
After he had cut and styled her hair, Monroe asked Champion to attend the event with her, so that he could touch up her hair and make-up just before she went on-stage.
Upon her arrival at Madison Square Garden, Monroe was presented with her outfit for the evening. Designed by Jean Louis, the highly revealing, flesh-coloured dress was covered in thousands of rhinestones, and was so tight Monroe had to be sewn into it, delaying her stage entrance.
Robert Champion recalled those moments before her performance:
"As we stood for a long time back stage at Madison Square Garden, she was very nervous about her appearance. I refreshed her lipcolor, powdered her nose, checked her blusher, and then she was announced again 'Miss Marilyn Monroe, better late than never.' In her very tight gown, she had difficulty ascending the make-shift stairs and I assisted her to the top where the spotlight hit her. The next is history."
The lock
This large lock of blonde hair was trimmed from Monroe's head by Champion just prior to that iconic performance, and remained in his personal collection for decades.
The lock measures approximately 2.57" by 1.18" (7cm by 3cm).
It is accompanied by an instant Polaroid photograph of Monroe, taken at a party following the event.
The image captures Monroe smiling radiantly, perhaps in relief after getting through the performance, and bears her lipstick print in place of a signature on the reverse.
Huge prices for Monroe memorabilia
For collectors, Marilyn Monroe remains the most sought-after of any star in Hollywood history, and her personal memorabilia regularly sells for seven-figure sums.
In December 2016, the dress worn by Monroe during her performance of 'Happy Birthday' sold at Julien's Auctions for $4.8 million, making it the second-most valuable dress ever sold.

The record is held by the famous white dress she wore in The Seven Year Itch, which sold in 2011 for $5.6 million.
Free global shipping and Certificate of Authenticity.
BUY NOW: Order online, by phone +44 (0)1534 639 998, or via email info@paulfrasercollectibles.com
Payment & Security
Your payment information is processed securely. We do not store credit card details nor have access to your credit card information.