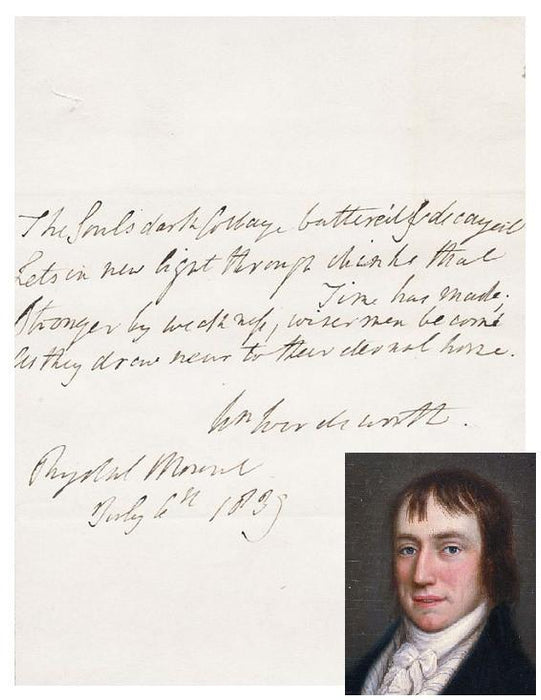 William Wordsworth Autographed Poetry Quotation
A handwritten poetry inscription signed by one of history's most celebrated poets
Read our full newsletter about this item here 
William Wordsworth (1770-1850) is one of history's most famous poets, and was a founder of the Romantic Age in English literature.
In 1798 Wordsworth and his close friend, poet Samuel Taylor Coleridge, published their volume 'Lyrical Ballads', which inspired a generation of Romantic writers including John Keats, Lord Byron, Percy Bysshe Shelley and William Blake.
Wordsworth served as Britain's Poet Laureate from 1843 until his death in 1850, and is most renowned for 'Daffodils', one of the world's best loved poems, which begins with the line "I wandered lonely as a cloud..."
In this handwritten note, Wordsworth has inscribed four lines from the poem 'Old Age' by the 17th century poet and politician Edmund Waller:
"The soul's dark cottage, batter'd and decay'd,
Lets in new light through chinks that Time hath made:
Stronger by weakness, wiser men become
As they draw near to their eternal home."
The note is signed "Wm Wordsworth", and is dated "6 July, 1839".
It also bears the address of Wordsworth's Lake District home Rydal Mount, where he lived from 1813 until his death in 1850, and which today remains a public museum dedicated to his life and work.
The page measures 17 x 20.3 cm (approx. 6.7" x 7.9"), and features a small tear to the upper left portion, along with two horizontal fold creases.
Free global shipping. 28-day returns. Certificate of Authenticity and our Lifetime Moneyback Guarantee of Authenticity included
BUY NOW: Order online, by phone +44 (0)117 933 9500, or via email info@paulfrasercollectibles.com
Payment & Security
Your payment information is processed securely. We do not store credit card details nor have access to your credit card information.