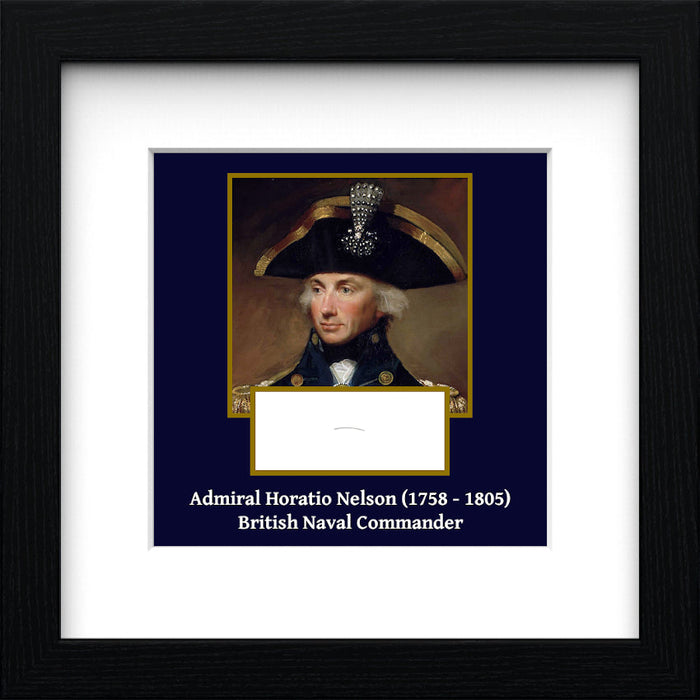 Admiral Horatio Lord Nelson Authentic Strand of Hair
A guaranteed authentic half inch strand of Admiral Nelson's hair
Admiral Horatio Lord Nelson (1758-1805) was a British naval officer famous for his victories against the French during the Napoleonic Wars.
Nelson was known for his superb leadership skills and somewhat unconventional strategies.
Nelson was involved in battle almost constantly between 1793 until his death in 1805. During this time he lost the sight in his right eye at the Battle of Calvi in Corsica and lost his right arm at Santa Cruz in Tenerife.
Admiral Lord Nelson is remembered as one of the greatest British war heroes in history. He died during the Battle of Trafalgar in 1805.
This approx. ½ inch strand of Admiral Horatio Nelson's hair is presented on a display card inside a 7" x 7" frame, ready to hang or stand.
Each display is custom-made to order. Due to the nature of the product, hair strands may look slightly different to those pictured.
Free global shipping and Certificate of Authenticity.
BUY NOW: Order online, by phone +44 (0)1534 639 998, or via email info@paulfrasercollectibles.com
Payment & Security
Your payment information is processed securely. We do not store credit card details nor have access to your credit card information.