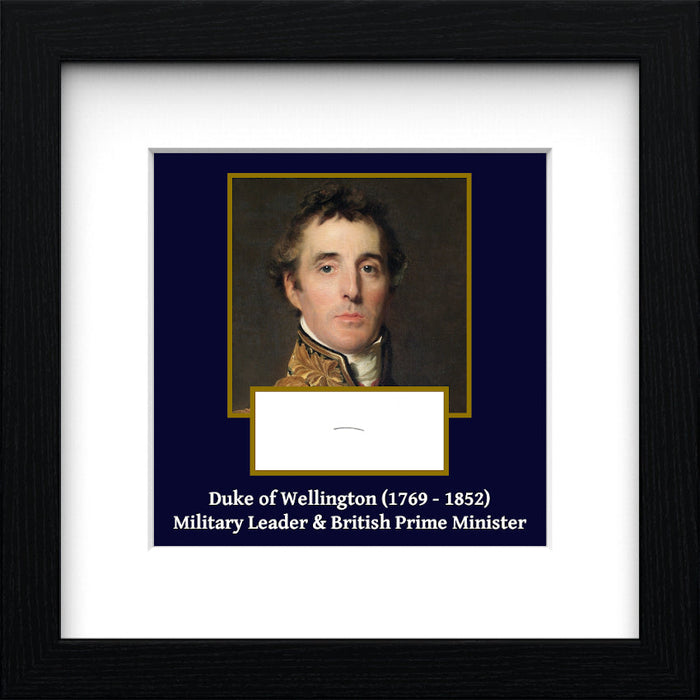 Duke of Wellington Authentic Strand of Hair
A guaranteed authentic strand of hair from the Duke of Wellington (1769-1852)
Sir Arthur Wellesley, the 1st Duke of Wellington was an astute and successful commander of the British Army at a time when Europe needed it most. Through his insightful leadership of British and allied forces, he defeated Napoleon at the Battle of Waterloo in 1815.
The 'Iron Duke' died a veteran of some 60 battles across the Empire, a leading statesman and twice a British Prime Minister.
A guaranteed authentic half inch strand of hair from the Duke of Wellington. Cut from his head on August 1, 1841.

This approx. ½ inch strand of the Duke of Wellington's hair is presented on a display card inside a 7" x 7" frame, ready to hang or stand.
Each display is custom-made to order. Due to the nature of the product, hair strands may look slightly different to those pictured.
Free global shipping and Certificate of Authenticity.
BUY NOW: Order online, by phone +44 (0)1534 639 998, or via email info@paulfrasercollectibles.com
Payment & Security
Your payment information is processed securely. We do not store credit card details nor have access to your credit card information.