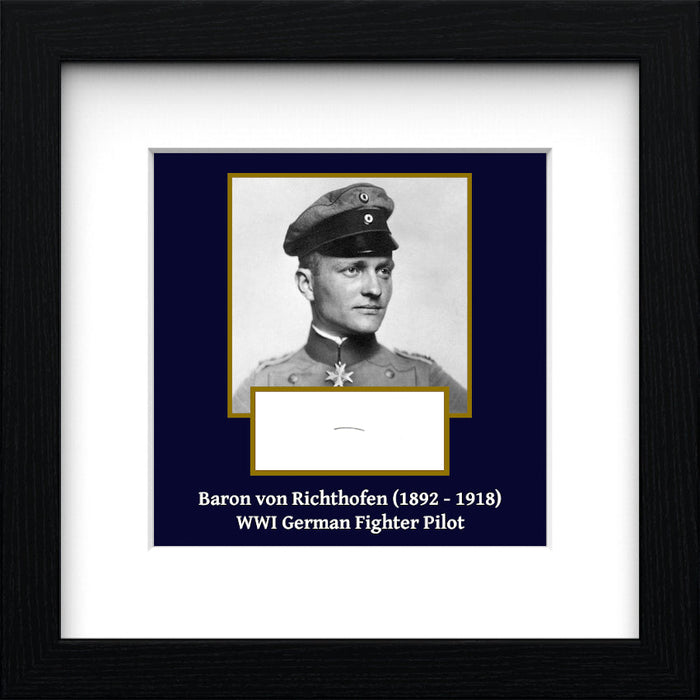 Baron Von Richthofen Authentic Strand of Hair
A guaranteed genuine strand of hair from Manfred Von Richtofen, aka The Red Baron
Manfred Von Richthofen widely known as the Red Baron, was a German fighter pilot with the Imperial German Army Air Service during World War I.
He is considered the ace-of-aces of the First World War being officially credited with 80 air combat victories, more than any other pilot from that war.
By the time of his death in April 1918 he had become a national hero in Germany and remains arguably the most widely known fighter pilot of all time, immortalised in countless films and books.
This approx. ½ inch strand of Baron von Richthofen's hair is presented on a display card inside a 7" x 7" frame, ready to hang or stand.
Each display is custom-made to order. Due to the nature of the product, hair strands may look slightly different to those pictured.
See image for copy of the Charles Hamilton Certificate of Authenticity.
Free global shipping and Certificate of Authenticity.
BUY NOW: Order online, by phone +44 (0)1534 639 998, or via email info@paulfrasercollectibles.com
Payment & Security
Your payment information is processed securely. We do not store credit card details nor have access to your credit card information.