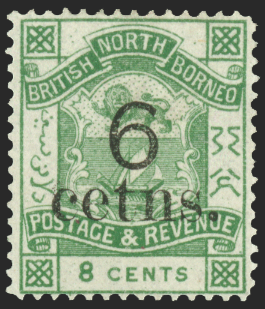 NORTH BORNEO 1891-92 6c on 8c yellow-green error, SG55c
North Borneo 1891-92 6c on 8c yellow-green (type 14), type 22 surcharge, error 'cetns.' for 'cents.', from R3/7 occuring in the first two print settings only, SG55c.
A fine quality mint example.
A very scarce and startling stamp error.
A lovely stamp design with the coat of arms and Arabic and Chinese script at either side.
The Stanley Gibbons catalogue value is £700.
Payment & Security
Your payment information is processed securely. We do not store credit card details nor have access to your credit card information.