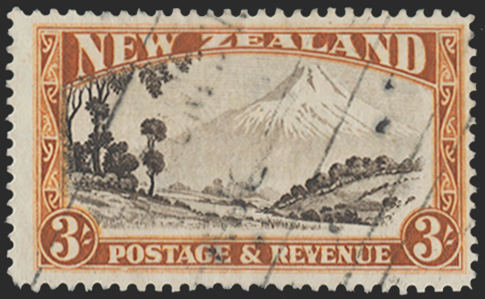 NEW ZEALAND 1935-36 3s chocolate and yellow-brown (USED), SG569ay
New Zealand 1935-36 3s chocolate and yellow-brown, SG569ay watermark 43, perforations 13½x14, variety watermark inverted and reversed from the experimental 'wet' printing.
A lightly used example, which is a little off-centre (as often seen), otherwise fine quality example in all other respects.
A scarce watermark variety with only 3,000 printed and rarer used than mint.
The Stanley Gibbons catalogue value is £475.
BUY NOW: Order online, by phone +44 (0)1534 639 998, or via email info@paulfrasercollectibles.com
Payment & Security
Your payment information is processed securely. We do not store credit card details nor have access to your credit card information.