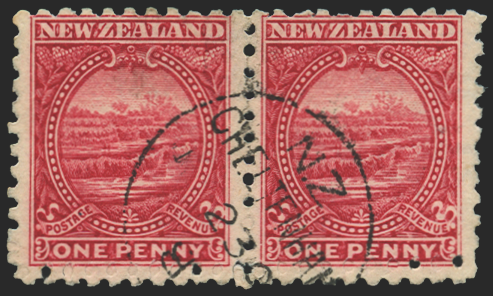 New Zealand 1900 1d crimson variety, SG274var
New Zealand 1900 1d crimson, type 39 "Pirie" paper, perforations 11, horizontal pair showing variety double horizontal perforations at foot, SG274var.
A very fine used pair with large part "CHELTENHAM" circular date stamp.
A scarce variety, particularly so as a multiple.
An attractive pictorial stamp issue depicting the stunning White Terrace, Rotomahana also known as "the fountain of the clouded sky".
The White Terraces were formed over thousands of years by a geyser, which had played over the mountain slope leaving deposits of silica. They were a world famous tourist attraction by 1886, when the eruption of nearby Mount Tarawera completely obliterated them. All that remains are sketches, paintings and these wonderful stamps.
New Zealand Campbell Paterson catalogue number E3a(1)Z, listed at a value of NZ$350+ (approx £180).
BUY NOW: Order online, by phone +44 (0)1534 639 998, or via email info@paulfrasercollectibles.com
Payment & Security
Your payment information is processed securely. We do not store credit card details nor have access to your credit card information.