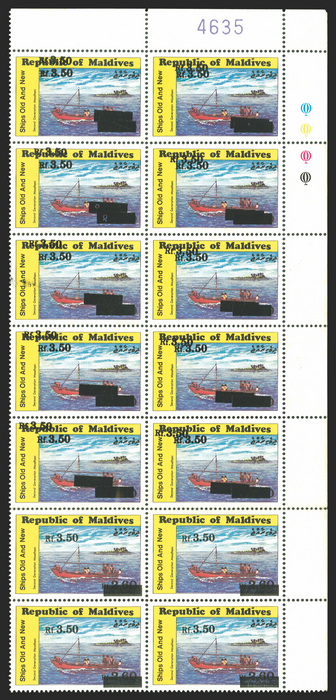 MALDIVE ISLANDS 1991 3r50 ON 2r60 'Dhoni' error, SG1533ab
Maldive Islands 1991 (? Oct) Provisional surcharge 3r50 on 1985 2r60 'Dhoni', upper right corner block of 14 (2x7) with '4635' sheet number and Questa colour 'balloons'; top 10 stamps showing error 'Surcharge double', SG1533ab.
A fine unmounted mint block with full original gum. Folded between rows 5 and 6, and slight gum toning, but unique in this positional form.
This 'mystery' surcharge was first reported on the 2r70 value in Gibbons Stamp Monthly, April 1995 (p.86), and this normal stamp and the error in Gibbons Stamp Monthly, November 2007 (p.124).
N.B. The fact that only the top half of the sheet shows surcharge double would suggest a setting of 25 (5x5) was used.
BUY NOW: Order online, by phone +44 (0)1534 639 998, or via email info@paulfrasercollectibles.com
Payment & Security
Your payment information is processed securely. We do not store credit card details nor have access to your credit card information.