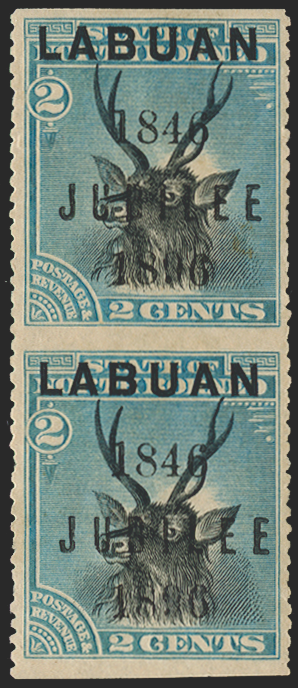 North Borneo Labuan 1896 2d black and blue Jubilee, SG84a
North Borneo Labuan 1896 2c black and blue Jubilee, type 16 overprint, perfortions 14½-15, vertical pair, ERROR IMPERFORATE HORIZONTALLY, SG84a.
Fine mint example with part original gum and lovely fresh colour. Typical small faults (horizontal creasing, lower stamp with a couple of short perforations), but spectacular and rare.
Although a sheet presumably existed, many were used.
The Stanley Gibbons catalogue value is £1,500.
Payment & Security
Your payment information is processed securely. We do not store credit card details nor have access to your credit card information.