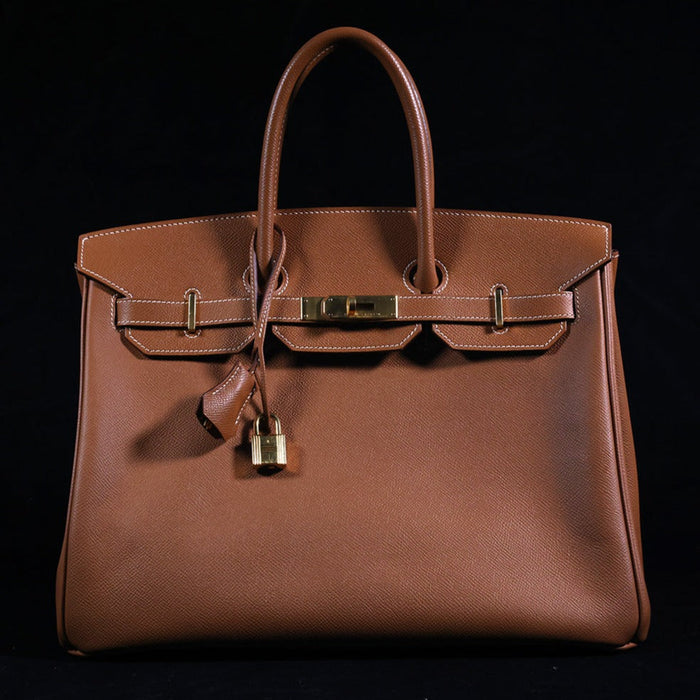 Hermes Birkin 35 handbag in Gold Epsom Leather with Gold Hardware
A hugely desirable Hermes Birkin 35 handbag - bought new in 2009
About the Hermes Birkin
The Birkin was created on a Paris-London flight in 1984, when actress Jane Birkin complained to the man sat next to her (the chief executive of Hermes) that she couldn't find a good bag.
Birkins are now the world's most celebrated luxury bag, and are a key status symbol.
They have proved historically strong investments - up 14.2% per annum over 35 years.
Key features

35: The length of the bag is 35cm. This is the original size Hermes produced in 1984. It's why this size has the most cachet with knowledgeable collectors.

Epsom leather: Popular with collectors as Epsom leather is famed for holding its shape, being easy to clean and rarely showing up scratches. It means Epsom bags look great year after year. Good news for investors.

Leather colour - gold: This was among the earliest Birkin colours produced. The fact it remains in production today is testament to its popularity - brown goes with almost any outfit, and it's the perfect colour for all occasions. Which is great news for you: it will be in high demand when you come to sell.

Gold hardware: The buckle, lock, keys and base studs are all in genuine 18kt gold plate. A hugely popular material with buyers, and a great choice for the investment minded. Gold has a much broader re-sale appeal than unusual finishes such as matte black.

Excellent condition: A vital factor in determining a Birkin's investment potential. The Birkins that have historically grown most in value are those in top condition. Small scratches to the feet and a slight mark in the leather on the base are its only detractions. Amazing condition.

Superb authenticity: The bag was bought new from the prestigious Selfridges store in London's Oxford Street in 2009.
The history of Hermes

Thierry Hermes founded Hermes in Paris in 1837 - manufacturing leather harnesses for horses.

From the very earliest days, Hermes became synonymous with exceptional quality and meticulous craftsmanship, supplying royal families and nobility throughout Europe.

The company made its first bag in 1900.

Today it is among the world's most exclusive luxury brands - offering discerning customers the finest in jewellery, perfume, fashion, and, of course, handbags.
Click here to discover more about this item.
Free global delivery. 28-day returns. Certificate of Authenticity and our Lifetime Moneyback Guarantee of Authenticity included.
BUY NOW: Order online, by phone +44 (0)1534 639 998, or via email info@paulfrasercollectibles.com
Payment & Security
Your payment information is processed securely. We do not store credit card details nor have access to your credit card information.