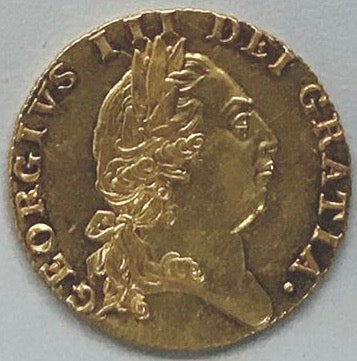 Great Britain George III (1760-1820) Guinea 1788, Fifth Head
Great Britain King George III (1760-1820) Guinea, 1788, fifth laureate head right.
Obverse: Latin legend reads GEORGIVS III DEI GRATIA.
Reverse: Spade shaped crowned quartered shield of arms, seven strings to Irish harp, date below, legend surrounds MBF ET H REX FD BET L D S R I A T ET E.
The first year of the fifth head guinea run which came to an end in 1799. This date is also offered in a very rare proof issue (cf., W&R 102-104, pp 147-149 designed by Lewis Pingo).
Weight: 8.33 grams.
Grade: Very Fine/Extremely Fine with much eye appeal.
Reference: Spink Coins of England: S3729.
King George III, born on 4 June 1738, was the grandson of King George II. He married Charlotte of Mecklenburg and they had nine sons and six daughters. George III enjoyed a long reign and remains the longest yet of any King. He died at Windsor Castle on 29 January 1820.
George III's reign represented a tumultuous period of history, during which time both the French Revolution and the American War of Independence both happened. The famous naval battle of Trafalgar and the Battle of Waterloo took place during his reign.
Payment & Security
Your payment information is processed securely. We do not store credit card details nor have access to your credit card information.