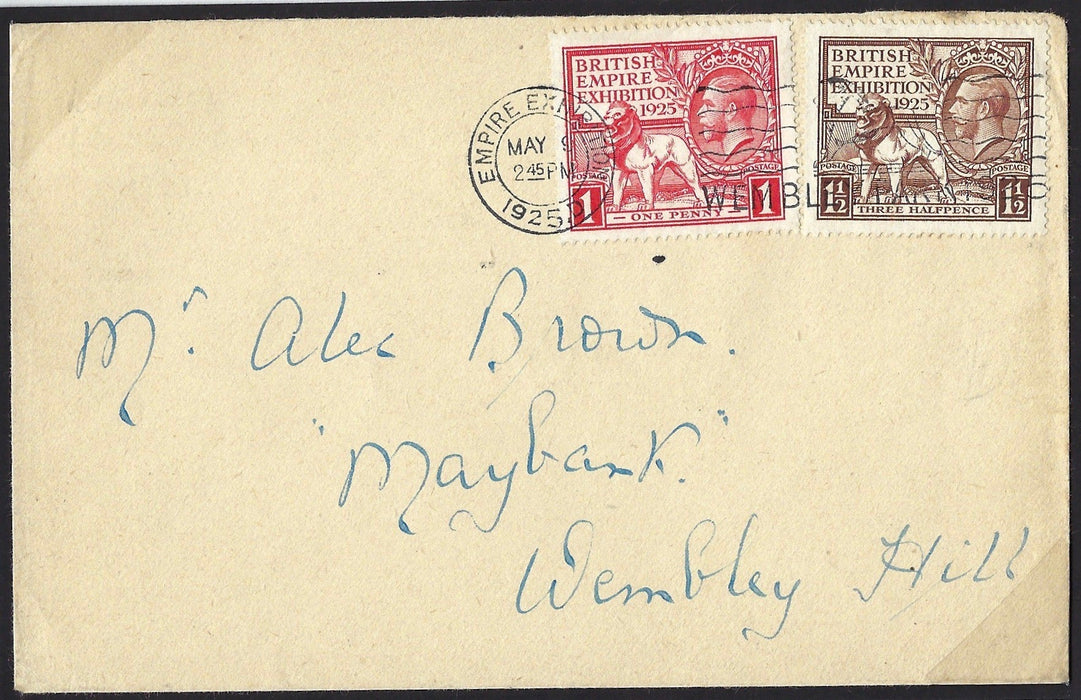 Great Britain 1925 British Empire Exhibition first day cover, SG432/3
Great Britain 1925 British Empire Exhibition first day cover, SG432/3.
A very fine used set of two tied to a clean envelope by a crisp Empire Exhibition, Wembley Park slogan machine cancels for MY.09.1925, the first day of issue.
A most attractive first day cover and very rare.
The British Empire Exhibition stamps were the first ever commemorative stamps issued by Great Britain. These became affectionately known as "The Wembleys".
The British Empire Exhibition was a hugely ambitious colonial exhibition to raise the country's spirits after the First World War. It opened at Wembley in 1924 and ran for two summer seasons showcasing goods and produce from the Empire countries and attracted 27 million visitors.
To mark the opening of the Exhibition in 1924, the British Post Office issued two commemorative stamps, the 1d scarlet and the 1½d brown. As the stamps proved so popular, they were re-issued the following year when the exhibition reopened for the second summer.
The design remains one of the most iconic and attractive of Britain's stamp issues amongst collectors. The designs were produced by the artist, Harold Nelson who was also responsible for the design of the 1929 PUC £1 stamp, now considered Britain's greatest ever stamp design. 
The design of the 1925 British Empire Exhibition stamps featured the British Lion (later known as the Wembley Lion) with rising sun.
The stamps were also produced to very high standards employing recess printing methods. It was customary at the time to use the much less costly photogravure process for low value definitive stamps. 
They were engraved and printed by Waterlow & Sons in the best intaglio style normally reserved for the highest GB stamp denominations. The quality of workmanship that went into producing these 1d and 1½d values resulted in huge praise and adoration from the general public.
Payment & Security
Your payment information is processed securely. We do not store credit card details nor have access to your credit card information.