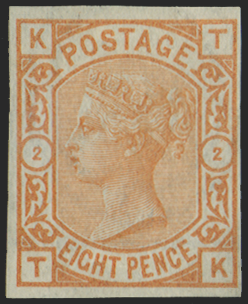 Great Britain 1876 8d orange, plate 2, SG156var
Great Britain 1876 8d orange Plate 2, SG156var.
Very fine mint example, with original gum, imperforate imprimatur of this rare "abnormal" plate lettered TK that was never issued due to changes in postal rates.
This value was issued to prepay the rate at that time to India via Marseilles and to Australia via Brindisi. Two printing plates (1 and 2) were prepared and registered. However, plate 2 was never put to press.
Plate 1 was used for a printing of 10,000 sheets in purple-brown. These were later almost all destroyed. The only regular issue was therefore that in orange from plate 1. As a result, examples of plate 2 were never issued for postage.
These imprimaturs from the approved printing sheet are very rare with only 24 possible examples, many of which are in institutional collections.
Accompanied with a 2007 British Philatelic Association (BPA) certificate of authenticity.
The Stanley Gibbons Great Britain Queen Victoria Specialised Catalogue, last published in 2011, lists a value of £11,000.
Click here to discover more about this stamp.
BUY NOW: Order online, by phone +44 (0)1534 639 998, or via email info@paulfrasercollectibles.com
Payment & Security
Your payment information is processed securely. We do not store credit card details nor have access to your credit card information.