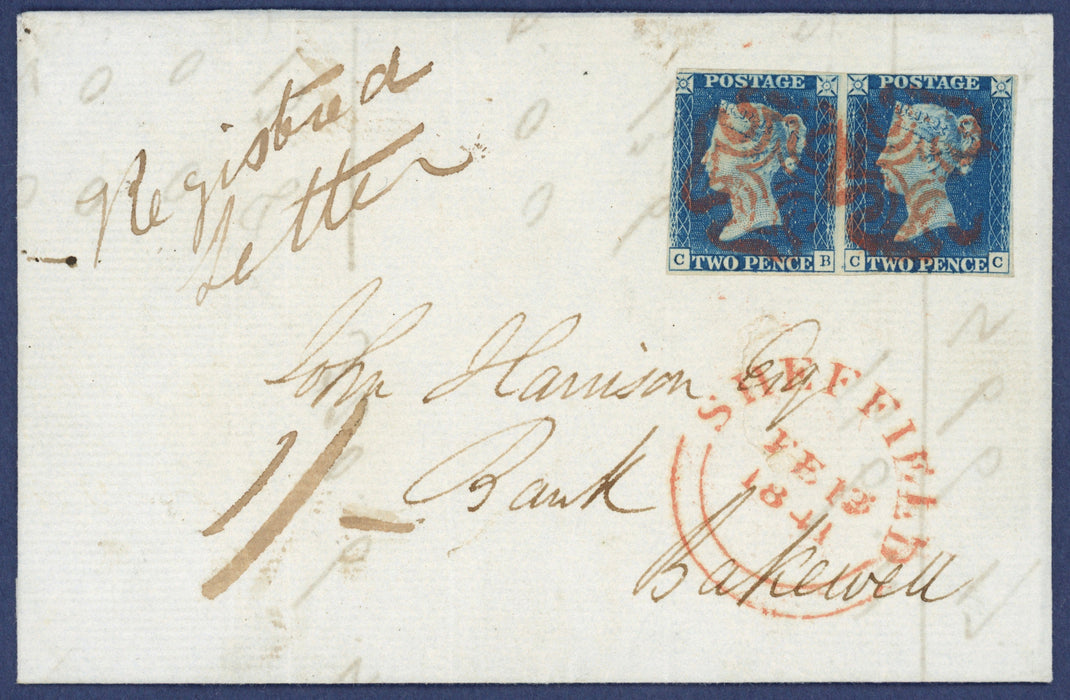 Great Britain 1840 2d blue earliest known Registered Cover, SGDS5
Great Britain 1841 (13 Feb) large part wrapper to Bakewell bearing pair of 2d dark blue, plate 1, initialled 'CB-CC', SGDS5.
A fine cover with close to good margins, just cut into at left. Cancelled by a red Maltese Cross, marked Registered Letter in left corner and 1 shilling rate mark for registration and Sheffield despatch circular date stamp. The flaps have been trimmed. Overall a clean and appealing cover.
A delightful and remarkable cover which is the earliest known registered cover bearing 1840 2d blue. Only three registered covers bearing the 1840 2d blue, plate 1 are recorded. Particularly pleasing by the fact the earliest known also bears a multiple of the 2d blue, which is rarely ever seen.
Accompanied with a 1999 Royal Philatelic Society (RPS) certificate of authenticity.
Provenance: Ex Martin Willcocks (June 1999), Dr Pichai Buranasombati (March 2001) and Alan Holyoake RDP FRPSL, Grand Prix Collection of British and International Registered Mail. 
Payment & Security
Your payment information is processed securely. We do not store credit card details nor have access to your credit card information.