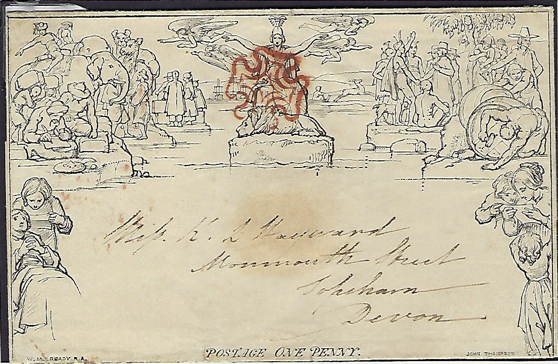 Great Britain 1840 1d Mulready Envelope First Day of Issue (Forme 1, Stereo A6), SGME1
Great Britain 1840 1d Mulready Envelope First Day of Issue (Forme 1, Stereo A6), SGME1.
Sent from London to the addressee in Topsham on May 6th 1840, the first official day of use, "B" – Borough "6 MY 6/1840" date stamp in red on reverse. 
A fine quality example (many other examples are heavily soiled) with a neat cancellation by a crisp strike of an orange-red Maltese Cross.
Mulready stationery letter sheets were introduced as part of the British Post Office postal reforms at the same time as the Penny Black. They went on sale on 1 May 1840 and were valid for use from 6 May 1840.
William Mulready was a well-known artist at the time and was commissioned to design the illustrations on the face of the letter sheet.
The social reformer, Sir Rowland Hill was responsible for the reform of the postal system based on the concept of prepaid postage with a uniform Penny Post. He expected the Mulready stationery to be more popular than postage stamps but, as we know, the postage stamp prevailed.
Within two months, the decision was made to scrap the Mulready stationery with the Penny Black becoming the clear winner with the public. Rowland Hill famously said at the time "I fear we shall have to substitute some other stamp for that design by Mulready… the public have shown their disregard and even distaste for beauty."
Avid collectors of Mulready letter sheets consider the design a work of art and they are obviously rare due to only being in issue for two months.
The Stanley Gibbons specialised catalogue price for the May 6th Mulready letter sheet is quoted as "from £18,000".
An opportunity to own a major rarity of British postal history at a significant discount to catalogue value.
Accompanied with a Royal Philatelic Society (RPS) certificate of authenticity (1970).

Click here to discover more about this item.
Payment & Security
Your payment information is processed securely. We do not store credit card details nor have access to your credit card information.