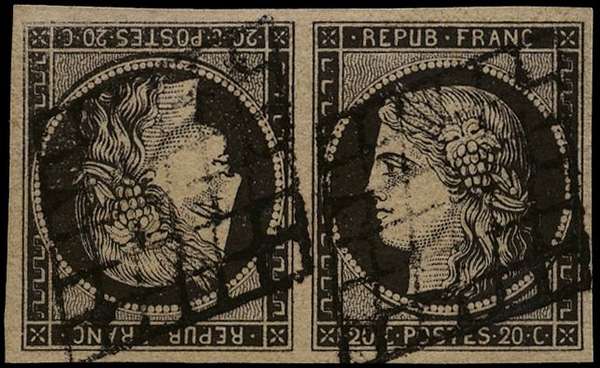 France 1849-52 20c black Ceres horizontal pair, SG23
France 1849-52 20c black Ceres horizontal pair, showing variety, 'Tete-beche', SG23.
A magnificent appearing horizontal "face to face" tete-beche pair and a major French philatelic rarity. The Ceres stamp issue was the French "penny black".
A very attractive example with four good to very large margins, used by bold strikes of the diamond grill cancel in black. 
France were almost 9 years behind the British in issuing their first stamp with the Ceres issue on January 1st, 1849.
As a republic, France could not feature a monarch like the penny black. Instead, they went for an effigy of Ceres, the Roman goddess of growing plants which was meant to symbolise the rise of the newly formed republic.
Click here to discover more about this item
Accompanied with a Royal Philatelic Society certificate of authenticity (2019).
The SG catalogue value is £9,000.
Payment & Security
Your payment information is processed securely. We do not store credit card details nor have access to your credit card information.