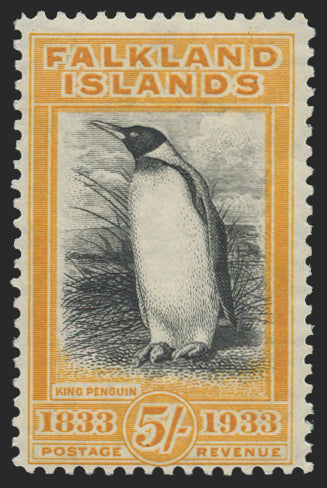 FALKLAND ISLANDS 1933 Centenary 5s black and yellow-orange, SG136a
Falkland Islands 1933 Centenary 5s black and yellow-orange 'King Penguin', SG136a.
The scarce and distinctive shade from the small second printing of 1,320 stamps (which were mostly destroyed in 1934).
A fine mint example with lovely colour and with original gum and only a trace of a mark from a previous stamp hinge. Minor gum wrinkle mentioned for accuracy, which does not detract in any way as it is a very fine example.
The stamp features the Gentoo Penguin, the most famous bird of the Falkland Islands. Gentoo Penguins nest in colonies adjacent to sandy or shingle beaches at over 80 locations around the Falkland Islands. Its adorability has led it to become an emblem of the Islands.
Accompanied with a clear Sismondo certificate of authenticity (2009).
Stanley Gibbons catalogue value: £3,250.
BUY NOW: Order online, by phone +44 (0)1534 639 998, or via email info@paulfrasercollectibles.com
Payment & Security
Your payment information is processed securely. We do not store credit card details nor have access to your credit card information.