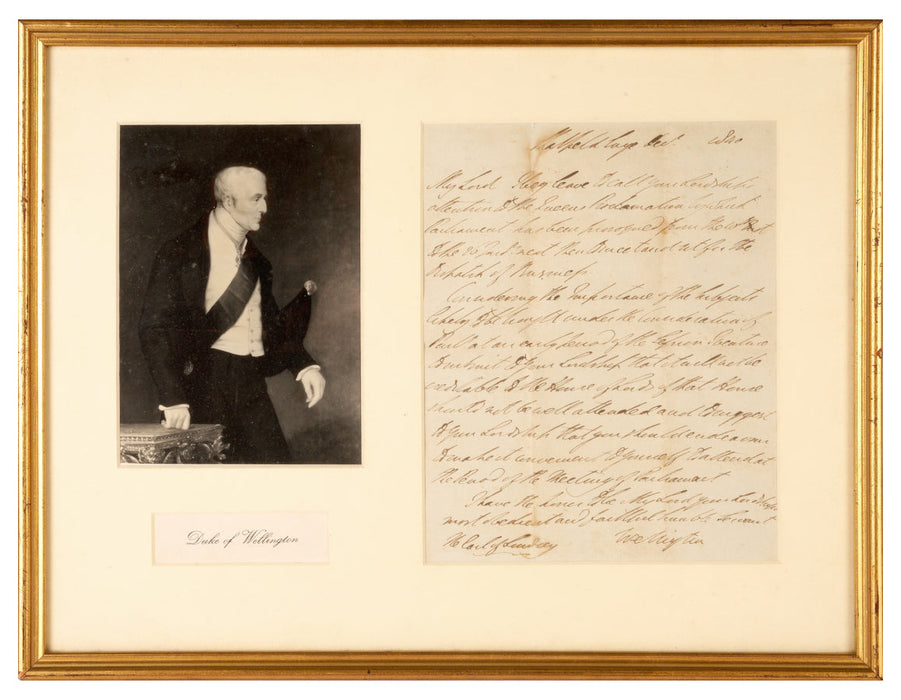 Duke of Wellington signed handwritten letter
Dutch Auction Day 2 Price: £2475.00
Dutch Auction Starting Price: £2750.00
A handwritten & signed letter from the Duke of Wellington, English military leader and British Prime Minister.
Sir Arthur Wellesley, the 1st Duke of Wellington, was one of the leading English military and political figures of the 19th century.

Through his insightful leadership of British and allied forces, he defeated Napoleon at the Battle of Waterloo in 1815.
The 'Iron Duke' died a veteran of some 60 battles across the Empire, a leading statesman and twice a British Prime Minister.
A letter handwritten on one side of a single sheet measuring approximately 19cm by 23cm.

Dated December 1840, and sent from Wellington's home at Stratfield Saye House, where he lived from 1818 until his death in 1852.
Addressed to the "Earl of Lindsay", a member of the House of Lords.

The letter reads in full:

"My Lord, I beg leave to call to your Lordship's attention to the Queen's Proclamation by which Parliament has been proposed from the 10th inst. to the 26th Jan next, then to meet and sit for the dispatch of Business.

!"Considering the importance of the subjects likely to be brought under the consideration of Parl. at an early period of the Session, I venture to submit to your Lordship that it will not be creditable to the House of Lords if that House should not be well attended and to suggest to your Lordship that you should endeavour to make it convenient to yourself to attend at the period of the meeting of Parliament."
Wellington signs crisply below the text.

In fine condition, with horizontal mailing folds and some age-related discolouration.

Framed and mounted with a portrait of Wellington, in an impressive display measuring 36 x 45cm.
In 1840 Wellington was the leader of the Conservative party in the House of Lords.
Today he is remembered as a canny political operator, who out-manoeuvred his opponents by maintaining close relationships with key figures in the House through regular correspondence such as this letter.
A very nice example of Wellington's autograph, one of the key British historic signatures of the 19th century.
Click here to discover more about this item.
Free global delivery. 28-day returns. Certificate of Authenticity and our Lifetime Moneyback Guarantee of Authenticity included.
BUY NOW: Order online, by phone +44 (0)1534 639 998, or via email info@paulfrasercollectibles.com
Payment & Security
Your payment information is processed securely. We do not store credit card details nor have access to your credit card information.