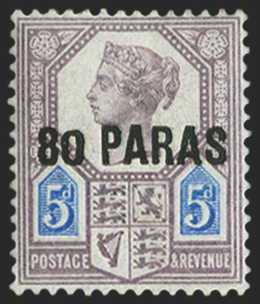 BRITISH LEVANT 1887-96 80pa on 5d purple and blue variety, SG5a
British Levant 1887-96 80pa on 5d purple and blue, variety 'Small 0 in 80', SG5a.
A fine and fresh mint example with large part original gum.
A rare and most appealing variety in particularly pleasing fine condition.
The Stanley Gibbons catalogue value is £400.
The term British Levant has been adopted by stamp collectors to describe the stamp issues from various British Post Offices within the former Turkish Empire.
Following the depreciation of the Turkish piastre against sterling in 1894 it was decided to issue stamps surcharged in Turkish currency to avoid speculation.
BUY NOW: Order online, by phone +44 (0)1534 639 998, or via email info@paulfrasercollectibles.com
Payment & Security
Your payment information is processed securely. We do not store credit card details nor have access to your credit card information.