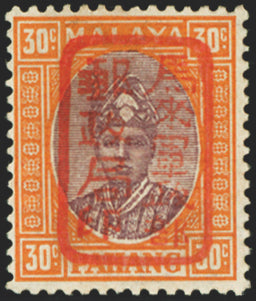 MALAYA JAPANESE OCCUPATION 1942 Pahang 30c dull purple and orange, SGJ185a
Malaya Japanese Occupation 1942 (3 Apr) Pahang 30c dull purple and orange (on thin striated paper), chop 'E' in red, SGJ185a.
A fine quality mint example with original gum.
Scarce, particularly with the red overprint.
Provenance: Certified by Milo D Rowell (signed Rowell on reverse). Milo D Rowell started collecting Japanese occupation stamps, when he was with the US armed forces in Tokyo immediately after World War II. Through a wide range of connections in the Japanese philately world and elsewhere in the next 40 years he became arguably the world's leading expert on Japanese occupation issues.
Stanley Gibbons catalogue value: £160.
BUY NOW: Order online, by phone +44 (0)1534 639 998, or via email info@paulfrasercollectibles.com
Payment & Security
Your payment information is processed securely. We do not store credit card details nor have access to your credit card information.