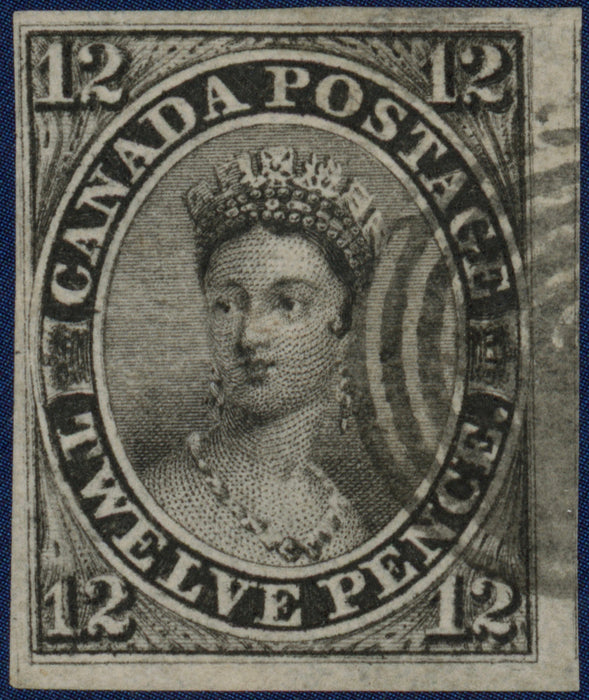 Canada 1851 Used The Famous 12d Black, SG4
Canada 1851 (June 14) 12d black on vertically laid paper, SG4, imperforate with mostly good to very large margins showing trace of adjoining stamp at right, but just a little close at upper left, and intense colour, attractively cancelled by large part target which exceptionally leaves portrait entirely clear.
A beautiful example of this famous classic rarity known as 'The Black Empress" featuring an image of the young Queen Victoria. Since the early days of stamp collecting, it has always been regarded as the most valuable, rarest and sought after basic stamp of Canada.
The distinctive 12d face value paid the basic letter rate to Newfoundland or the British West Indies via Halifax or Liverpool, and double-weight letters to the US, requirements which ensured very limited usage. As a result, from a total of 51,000 originally printed, a mere 1,450 were sold in the 3½ years during which it was available at post offices, the balance being destroyed in 1857. Fewer than 10% of that total survive today in ANY condition, the majority being cut into, heavily cancelled or variously defective because of the delicate nature of the laid paper.
This exquisite example of impeccable provenance ranks amongst the finest extant and is unquestionably worthy of the most important of collections. One of the great stamps of the British Empire, and the first in used condition we have ever handled in the past 20 years.
Provenance: Ex Dale-Lichtenstein (Nov. 1968, when the left stamp in the horizontal pair, lot 58), and John Foxbridge (1987).
Accompanied with a British Philatelic Association certificate of authenticity (2019).
The Stanley Gibbons catalogue value is £100,000.
Click here to discover more about this stamp.
BUY NOW: Order online, by phone +44 (0)1534 639 998, or via email info@paulfrasercollectibles.com
Payment & Security
Your payment information is processed securely. We do not store credit card details nor have access to your credit card information.