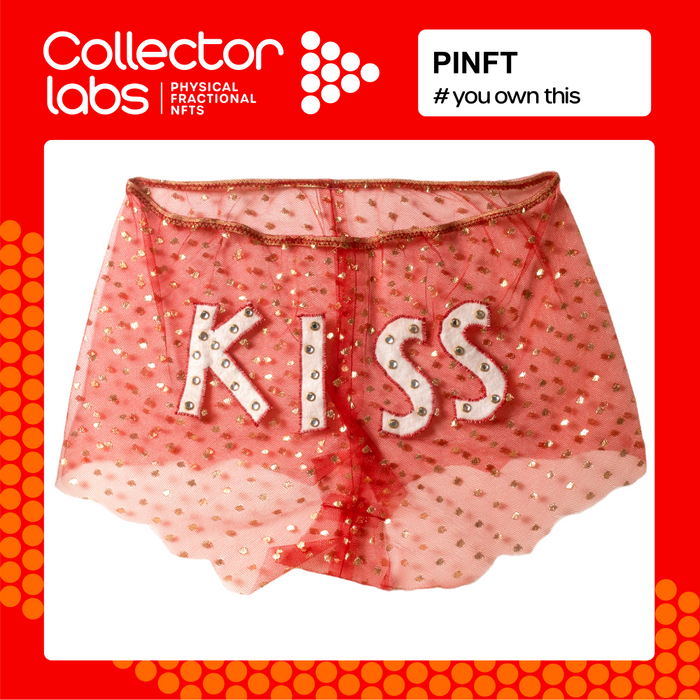 1/300 Fractional ownership of Madonna's Who's That Girl tour knickers
1/300 Fractional ownership of a pair of costume knickers created for Madonna for her 1987 Who's That Girl tour

Only 300 slices available - there will never be any more


Each slice comes with certification of ownership, authenticity and provenance
Each slice available for £80 ($100)
Superb condition
Housed in a striking 41.5 x 27.5 inch display
We are here to assist you when you decide to sell
Please note: you are buying 1/300 fractional ownership of Madonna's Who's That Girl knickers. You will not receive a physical collectible.
Incredibly rare with cast-iron provenance, this is the quintessential piece of Madonna memorabilia. Red. See-through. Emblazoned with the word "KISS".
Worn by Madonna during the song 'Dress You Up' in which she sported an outfit inspired by Dame Edna Everage. Madonna reveals the knickers during the song, removes them and then performs an erotic act with them. These knickers have been screen-matched to footage of her performance.
View a video of Madonna's performance here: https://youtu.be/MWocCYNpI9o?t=2497
If you collect music memorabilia, this item is absolute gold. Madonna wore these knickers during the song 'Dress You Up'. She performed it every night of the 38-date tour, as part of a medley with classics 'Material Girl' and 'Like A Virgin'.
During each show Madonna flashed her underwear to the crowd, before whipping them off and cavorting around the stage. It was part of an amazing show, combining choreography with video screens and dozens of costume changes.
Today the Who's That Girl tour remains one of Madonna's finest hours, it turned her into a global superstar. Madonna is the most successful female artist of all time. She's sold more than 300 MILLION records, and grossed $1.31 BILLION in ticket sales. She's also been banned from MTV, and censured by the Pope. Twice.
Madonna has always courted controversy throughout her career. That's who she is. Creative. Provocative. Fearless. A remarkable performer with the power to shock and surprise us.
BUY NOW: Order online, by phone +44 (0)1534 639 998, or via email info@paulfrasercollectibles.com
You can also order direct through our partner CollectorLabs
Payment & Security
Your payment information is processed securely. We do not store credit card details nor have access to your credit card information.