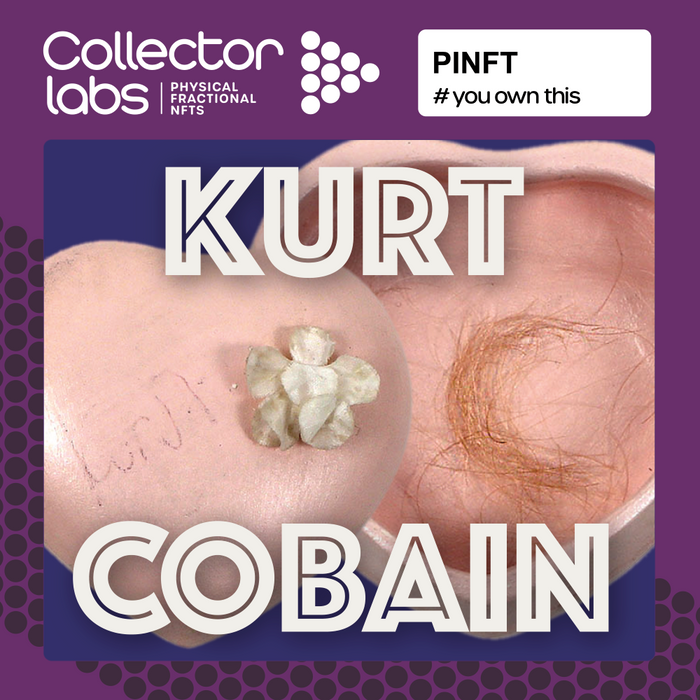 1/200 Fractional Ownership of Kurt Cobain's Authentic Lock of Hair and Signature
1/200 fractional ownership of a lock of Kurt Cobain's hair and signature
Only 200 slices available - there will never be any more


Each slice comes with certification of ownership, authenticity and provenance

Each slice available for £80 ($100)

Hair is housed in a heart shaped box, signed by Cobain

We are here to assist you when you decide to sell
Please note: you are buying 1/200 fractional ownership of Kurt Cobain's hair and signature. You will not receive a physical collectible.
Nirvana was the defining band of the 1990s, rising from humble beginnings to super stardom between 1987 and 1994. Frontman Kurt Cobain's death at 27 proved the tragic end to an immensely promising career.
This is a guaranteed authentic lock of Kurt Cobain's hair.
A hairdresser collected the hair after giving Cobain a trim in the early 1990s. The hairdresser gifted the lock to her niece, who was a Nirvana fan, on her 18th birthday.
The niece placed the hair in a Cobain-signed heart shaped box (the title of one of Cobain's songs) which she had previously acquired from a fellow fan.
Cobain had faintly signed the box "Kurdt" on the lid in pen during Nirvana's 1993 "In Utero" tour for a female fan who followed the band from concert to concert.
"Kurdt" was a variation of his name he frequently used to sign letters, drawings and autographs. (After it was originally misspelled as "Kurdt" in a 1988 magazine interview.)
He's also referred to as "Kurdt Kobain" in the liner notes for the Nirvana albums Bleach and Nevermind.
A rare opportunity to own an intimate piece of Kurt Cobain and Nirvana history.
Free global shipping and Certificate of Authenticity.
BUY NOW: Order online, by phone +44 (0)1534 639 998, or via email info@paulfrasercollectibles.com
You can also order direct through our partner

CollectorLabs
Payment & Security
Your payment information is processed securely. We do not store credit card details nor have access to your credit card information.