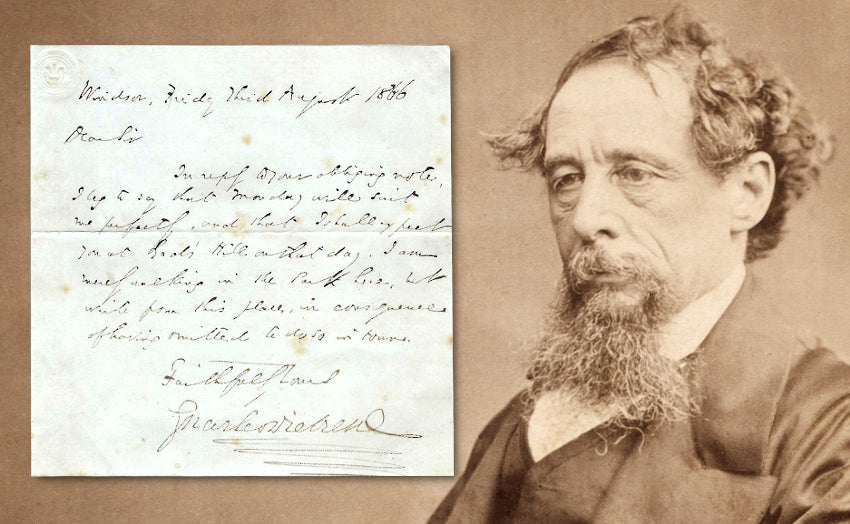 Charles Dickens signed handwritten letter
A signed, handwritten letter by the renowned English author Charles Dickens
Charles John Huffman Dickens (1812-1870) is regarded as the greatest English writer of his age. His broad body of work includes some of the most celebrated novels ever written - including Oliver Twist, Great Expectations and A Christmas Carol.
This letter, which appears in Volume 11 of The Letters of Charles Dickens, was written to the photographer Robert Hindry Mason (1824 - 1885).
Mason took several famous portraits of Dickens, both at his London studio and at Dickens' home at Gad's Hill Place.
This letter was an invitation for Mason to a sitting at Gad's Hill on August 6, 1866.
The letter is dated August 3, 1866, and was evidently written by Dickens whilst out walking in Windsor Park, as evidenced by his heading "Windsor" and the mention of the park in the content.
The letter reads in full:
"Dear sir, In reply to your obliging note, I beg to say that Monday will suit me perfectly and that I shall expect you at Gad's Hill on that day. I am merely walking in the park here, but write from this place in consequence of having omitted to do so in town. Faithfully yours, Charles Dickens."
The letter measures 3.5" by 3.5" and is in fine condition, with minor edge toning, small areas of foxing and a horizontal fold crease.
Dickens' neat crisp signature in unaffected, and signed with his typical underlined flourish.
A wonderful signed letter by one of the finest writers in literary history.
 Free global shipping. 28-day returns. Certificate of Authenticity and our Lifetime Moneyback Guarantee of Authenticity included. 
Payment & Security
Your payment information is processed securely. We do not store credit card details nor have access to your credit card information.