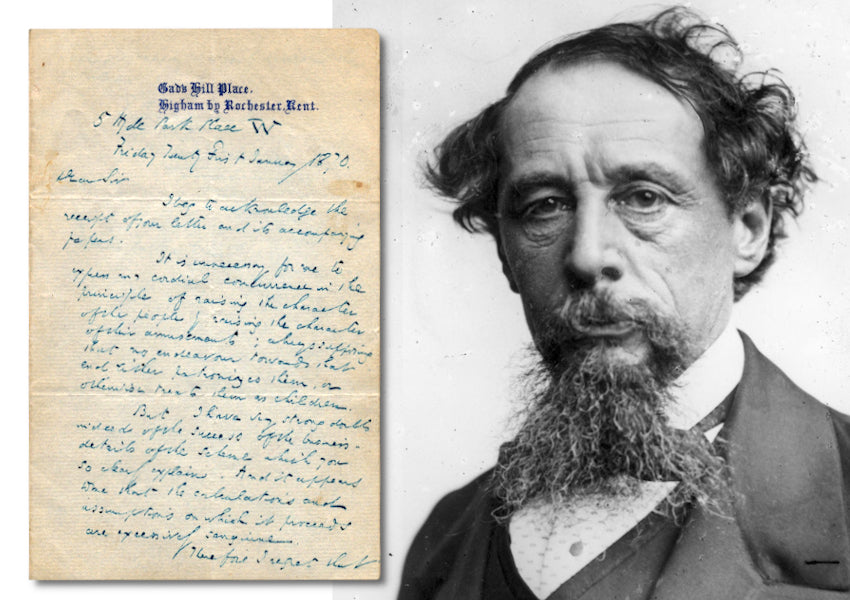 Charles Dickens handwritten signed letter
A handwritten signed letter by the renowned English author Charles Dickens
Charles John Huffman Dickens (1812-1870) is regarded as the greatest English writer of his age. His broad body of work includes some of the most celebrated novels ever written - including Oliver Twist, Great Expectations and A Christmas Carol.
Dickens was born into a middle class family in Portsmouth, but his circumstances changed dramatically when his father was slung into a debtors' prison in 1824. Dickens was forced to leave school and start work in a boot polish factory to support his family.
While his father was freed a few months later, allowing Dickens to return to school, this formative experience left him burning with a righteous anger at the conditions the working classes had to endure.
A letter on a Gad's Hill Place headed stationery, dated 21st January 1870 addressed to Francis Fuller, one of the original directors of the Crystal Palace.
In part it reads: ' It is unnecessary for me to express my cordial concurrence in the principle of raising the character of the people and raising the character of their amusements; always supposing that no endeavor towards that end either patronizes them as children.
But I have very strong doubts indeed of the success of your business details of the scheme which you so clearly explain. And it appears to me that the calculations and assumptions on which it proceeds are excessively sanguine. Therefore I regret that I cannot express my confidence in the enterprise.'
Item in a very good condition, with horizontal and vertical mailing folds, some scattered light toning and soling, a notation on reverse second page, and the ink having a somewhat 'skipped' appearance.
A superb example of a signed letter by one of the greatest writers in literary history.
Free global shipping. 28-day returns. Certificate of Authenticity and our Lifetime Moneyback Guarantee of Authenticity included. 
Payment & Security
Your payment information is processed securely. We do not store credit card details nor have access to your credit card information.