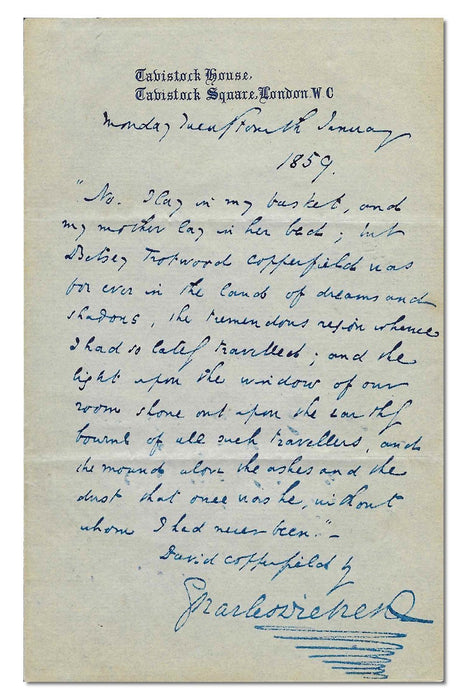 Charles Dickens handwritten signed David Copperfield quotation
A signed, handwritten quotation by author Charles Dickens (1812-1870), the greatest English novelist of the Victorian age.
Dated January 24, 1859.
The manuscript features the final sentence from the first chapter of David Copperfield, one of Dickens' most celebrated and autobiographical works.
It reads in full:
"No, I lay in my basket, and my mother lay in her bed; but Betsey Trotwood Copperfield was for ever in the land of dreams and shadows, the tremendous region whence I had lately travelled; and the light upon the window of our room shone out upon the earthly bourne of all such travellers, and the mound above the ashes and the dust that once was he, without whom I had never been".
The single page manuscript measures 4.4" by 7.1", and is written in blue ink on Dickens' headed stationary, bearing the address of his London home Tavistock House.
Dickens has signed beneath with an excellent example of his flowing signature.
The manuscript is in very good condition, with expected horizontal mailing folds.
Accompanied by a letter of provenance from Boston University, confirming the item was deaccessioned from their archive.
A truly superb and highly desirable piece of Charles Dickens memorabilia, featuring a quotation from one of his most celebrated novels.
Discover more about this incredible letter.
Free global delivery. 28 day returns

BUY NOW: Order online, by phone +44 (0)1534 639 998, or via email info@paulfrasercollectibles.com
Payment & Security
Your payment information is processed securely. We do not store credit card details nor have access to your credit card information.