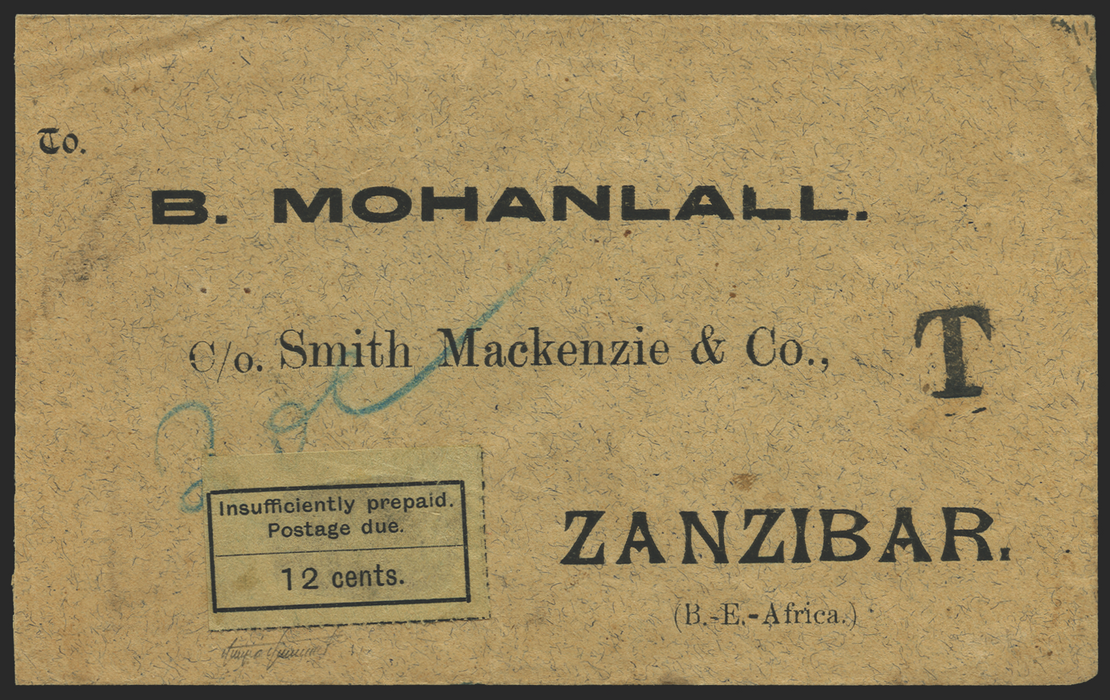 Zanzibar 1926 12c black/green Postage Due Cover, SGD7
Zanzibar 1926 (JA 4) incoming printed "B. MOHANLALL, C/o Smith Mackenzie & Co, ZANZIBAR" cover, unpaid and with "T in circle" tax mark applied on despatch (presumably at Lucknow, India, by inference from other covers of this commercial correspondence).
On reverse, type D9 "ZANZIBAR" arrival circular date stamp, with blue crayon "20c" (= gold centimes) calculation of deficiency on face, paid by 1926-30 12c black/green postage due (R1/1 on sheet), uncancelled as was the norm until mid - 1929.
Very pleasing fine condition for a cover like this, as most Zanzibar covers found show material condition defects.
A highly important cover, being the earliest recorded (by nearly six months!) with the 1926-30 issue. In fact, the deficiency should probably have been "40c" (= 25 Zanzibar cents), but the absence of despatch marking may have allowed a default to the lower charge. A most intriguing piece of Zanzibar postal history.
Provenance: Ex Griffith-Jones (illustrated on p.287 of his book as fig. 11.5, with further discussion on p.288; census listing F.1) and Schuyler Rumsey sale of February 2012 where it realised £1,725.
Accompanied with a Sismondo certificate of authenticity (2011).
BUY NOW: Order online, by phone +44 (0)1534 639 998, or via email info@paulfrasercollectibles.com
Payment & Security
Your payment information is processed securely. We do not store credit card details nor have access to your credit card information.