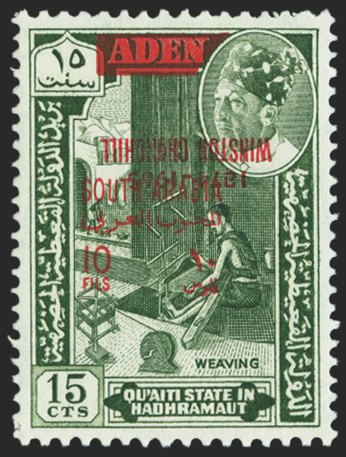 SOUTH ARABIAN FEDERATION 1966 Qu'aiti 10f on 15c bronze-green error, SG66a
South Arabian Federation 1966 (1 Apr) Qu'aiti 10f on 15c bronze-green 'weaving', type 23 Churchill overprint, error overprint INVERTED, SG66a.
A very fine unmounted mint example with full original gum.
A scarce variety presented in the highest condition grade.
The Federation of South Arabia was a short-lived federal state under British protection in what would become South Yemen. It was formed on 4 April 1962 from the 15 protected states of the Federation of Arab Emirates of the South. The State of Aden joined the federation on 18 January 1963. In June 1964, the Upper Aulaqi Sultanate was added bringing in 17 states. The Federation was abolished on 30 November 1967, when its status as a British protectorate came to an end.
BUY NOW: Order online, by phone +44 (0)1534 639 998, or via email info@paulfrasercollectibles.com
Payment & Security
Your payment information is processed securely. We do not store credit card details nor have access to your credit card information.