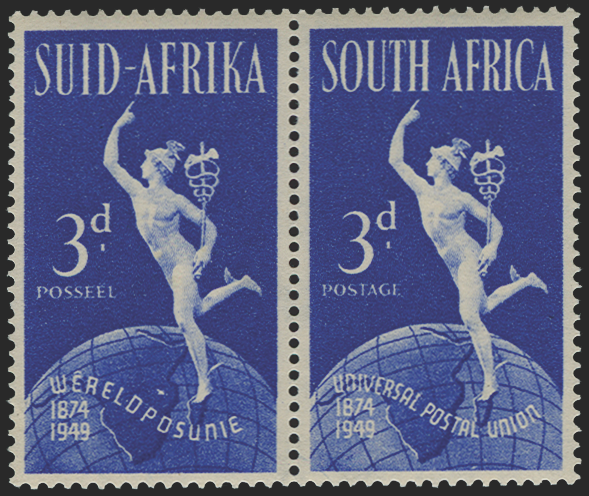 SOUTH AFRICA 1949 UPU 3d bright blue variety, SG130b
South Africa 1949 75th Anniversary of the Universal Postal Union 3d bright blue, horizontal pair, left stamp (R2/19) showing variety 'Lake in East Africa', SG130b.

A very fine unmounted mint positional block with full original gum.
An interesting variety, rare in such fine condition.
Stamps issued to celebrate the 75th anniversary of the Universal Postal Union featured 310 stamps in total across 84 different countries. This was only the second British Empire Omnibus issue not to mark a Royal anniversary. Some countries simply overprinted the British stamps. Other countries, including South Africa, issued their own designs. The South Africa design featured the Greek god, Hermes.
Stanley Gibbons catalogue value: £55+.
BUY NOW: Order online, by phone +44 (0)1534 639 998, or via email info@paulfrasercollectibles.com
Payment & Security
Your payment information is processed securely. We do not store credit card details nor have access to your credit card information.