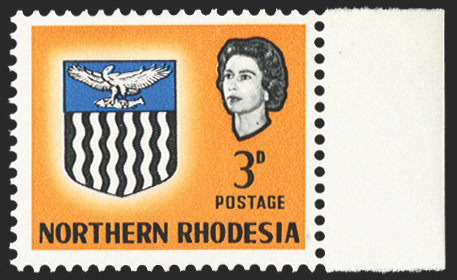 NORTHERN RHODESIA 1963 3d yellow error, SG78d
Northern Rhodesia 1963 3d yellow, 'Coat of Arms', error ORANGE EAGLE OMITTED, SG78d.
A right marginal, unmounted mint example with full original gum.
Only one sheet existed and very seldom available. Particularly rare as a marginal example and a much desired error of missing colour from the British Commonwealth in this particularly popular area of study.
SG Catalogue Value: £1,300.
BUY NOW: Order online, by phone +44 (0)1534 639 998, or via email info@paulfrasercollectibles.com
Payment & Security
Your payment information is processed securely. We do not store credit card details nor have access to your credit card information.