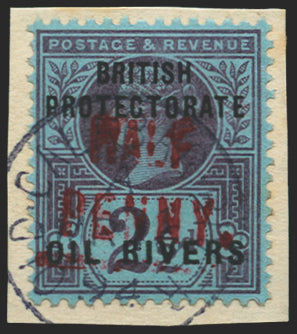 NIGER COAST 1893 'HALF PENNY.' on 2½d purple/blue, SG13
Niger Coast 1893 (Dec) "HALF/PENNY." on 2½d purple/blue, type 4 surcharge in carmine, Old Calabar provisional, tied to piece by 'OLD CALABAR RIVER' circular date stamp, dated "MR 16 94", SG13.
A very fine used example.
Very Scarce.
Stanley Gibbons catalogue value: £475.
The main post office of Niger Coast Protectorate was established at Old Calabar in November 1891. Initially, British postage stamps were used. In July 1892, they were overprinted with "BRITISH / PROTECTORATE / OIL / RIVERS". A pressing need for half penny values in mid-1893 resulted in a variety of surcharges on 2d and 2½​d stamps.
BUY NOW: Order online, by phone +44 (0)1534 639 998, or via email info@paulfrasercollectibles.com
Payment & Security
Your payment information is processed securely. We do not store credit card details nor have access to your credit card information.