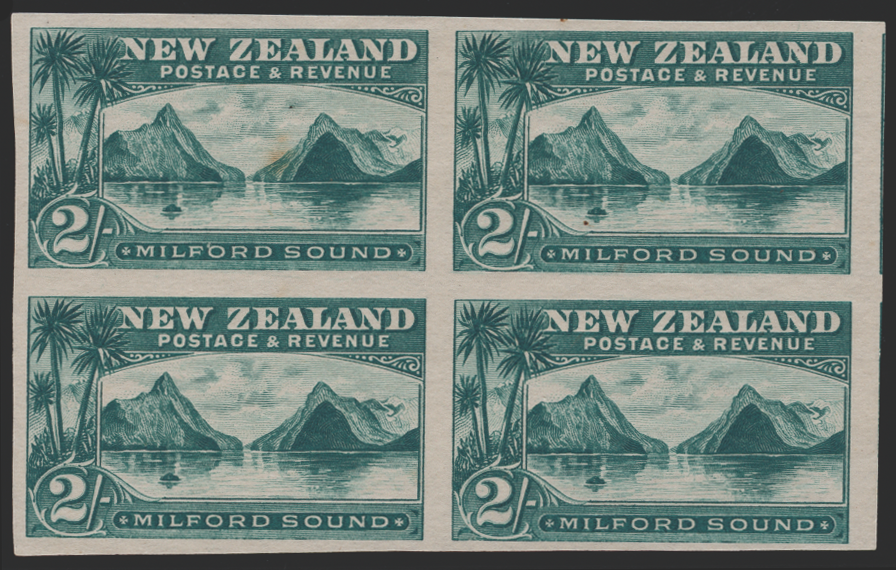 New Zealand 1899-1903 2s blue-green plate proof, SG269
New Zealand 1899-1903 2s blue-green, Waterlow plate proof from the "colonial" plate, imperforate block of 4 on ungummed wove, no watermark, with traces of adjoining impressions at right, SG269.
A fine mint block. The upper left stamp has a faint tone spot which is immaterial to overall quality and still very fine.
Provenance: Ex Michael Burberry, the recognised authority on varieties of the New Zealand pictorial stamps. and tentatively plated as R1/2/7-8.
Stanley Gibbons catalogue value: £640+.
One of the most attractive designs from what was the first pictorial series from a major British colony. The design of Milford Sound is home to some of the most impressive waterfalls on Earth.
BUY NOW: Order online, by phone +44 (0)1534 639 998, or via email info@paulfrasercollectibles.com
Payment & Security
Your payment information is processed securely. We do not store credit card details nor have access to your credit card information.