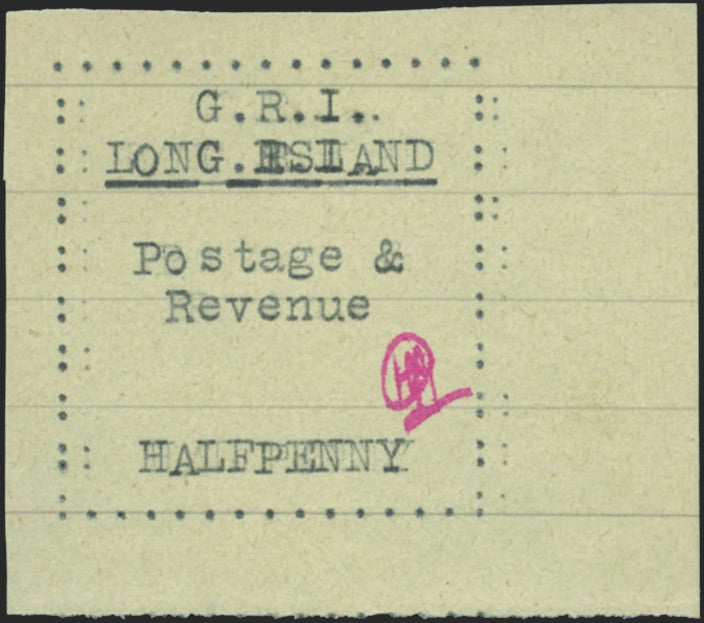 LONG ISLAND 1916 ½d BLACK ON PALE GREEN GRI DOUBLE SG4a
£5500.00
Long Island 1916 (7 May) ½d black on pale green paper with horizontal grey lines, SG4a, typewritten (top copy as always), right marginal from Plate 2a, position 12, showing error 'G.R.I. double' (with the first impression under 'G ISLA' of 'LONG ISLAND').
A superb quality unused example.
Only three existed (from positions 10-12 of this plate), but this is one of only two recorded, and much the finer.
Provenance: Ex 'Mountrobeck' (Christies Robson Lowe 1 Jun 1994, lot 25).
Accompanied with a Holcombe certificate of authenticity (1990).
Long Island is a small island, in the Gulf of Smyrna, which was under Turkish rule as Chustan (or Keustan). It was occupied by the British Navy during April 1916 and renamed Long Island.
In May 1916, local stamps were issued between 7 and 26 May 1916. They were typewritten and inscribed 'GRI LONG ISLAND'. They were provided by the Civil Administrator, Lieutenant Commander H. Pirie-Gordon.
Long Island stamps are very scarce and rarely come onto the market and considered great rarities of British Commonwealth collecting. They hold a certain primitive charm and have always proved popular amongst a wide range of collectors.
BUY NOW: Order online, by phone +44 (0)1534 639 998, or via email info@paulfrasercollectibles.com
Payment & Security
Your payment information is processed securely. We do not store credit card details nor have access to your credit card information.