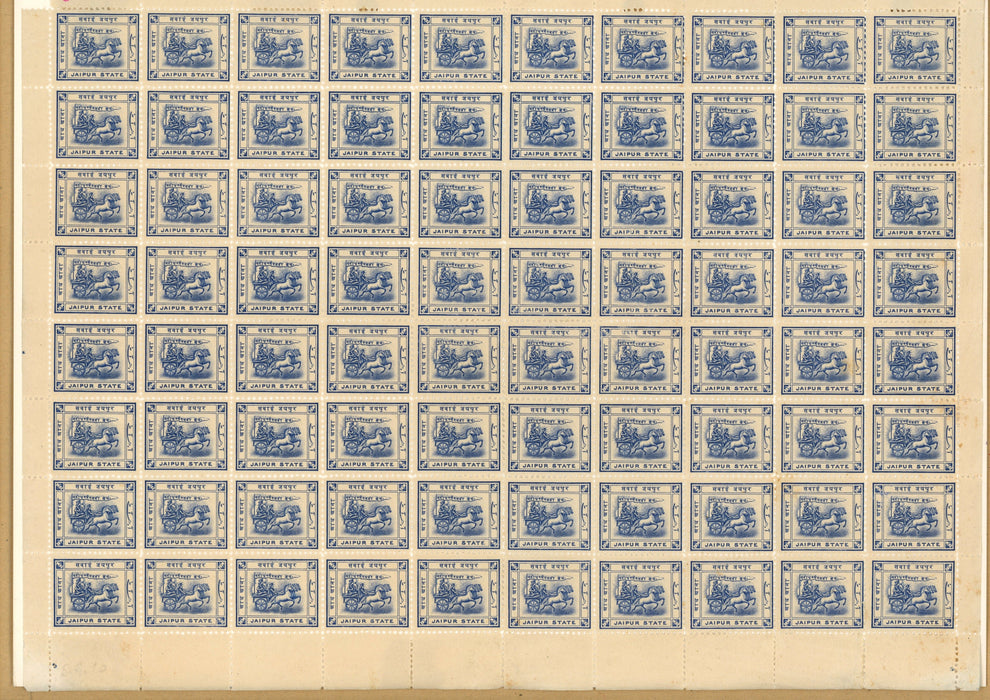 I.F.S. Jaipur ½a blue complete sheet, SG6,6b
Indian Feudatory States Jaipur ½a blue, Perkins Bacon printing, complete sheet of eighty (10x8), SG6,6b. The top 6 rows are perforations 12, with bottom rows compound perforations 12-12½.
A fine mint entire sheet with original gum. Some minor separation to be expected for a sheet of this size, and overall an impressive display piece.
Very rare as hardly ever seen as a complete sheet.
The stamp issue features Chariot of the Sun God, Lord Surya. In Hindu mythology, Surya travels through the sky on a seven-horse, twelve-spoked chariot, driven by Arun (the brother of Garud), with its arrival heralded by Usha, the goddess of Dawn. Sun begins its journey in the Northern Hemisphere (Uttarayan).
Jaipur is famous for being the world's first planned city, built in 1726-30.
Stanley Gibbons catalogue value: £1,180+. 
Payment & Security
Your payment information is processed securely. We do not store credit card details nor have access to your credit card information.