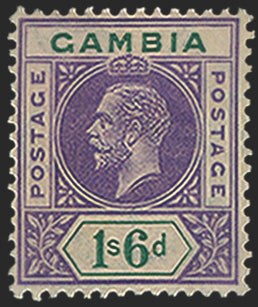 GAMBIA 1912-22 1s6d violet and green variety, SG98a
Gambia 1912-22 1s6d violet and green, watermark MCA, variety "Split A'' (R8/3, left pane), SG98a.
A fine mint and well-centred example with original gum. Fractionally toned, but still fine for this.
A very rare KIng George V printing variety as there are only a maximum of 102 possible and much fewer surviving, particularly in such fine mint condition.
Stanley Gibbons catalogue value: £700.
BUY NOW: Order online, by phone +44 (0)1534 639 998, or via email info@paulfrasercollectibles.com
Payment & Security
Your payment information is processed securely. We do not store credit card details nor have access to your credit card information.