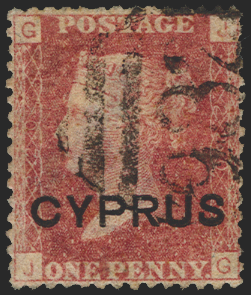 CYPRUS 1880 1d red, plate 220, SG2
Cyprus 1880 1d red, plate 220, lettered 'JG', SG2.
A well-centred and lightly used example with fine part '982' of Famagusta. Small imperfections (shortish perforations at top and traces of thinning) although of fine appearance and above average for this, the first 1d stamp issued by Cyprus.
A very scarce used example with this postage cancel.
The Stanley Gibbons catalogue value is £375.
BUY NOW: Order online, by phone +44 (0)1534 639 998, or via email info@paulfrasercollectibles.com
Payment & Security
Your payment information is processed securely. We do not store credit card details nor have access to your credit card information.