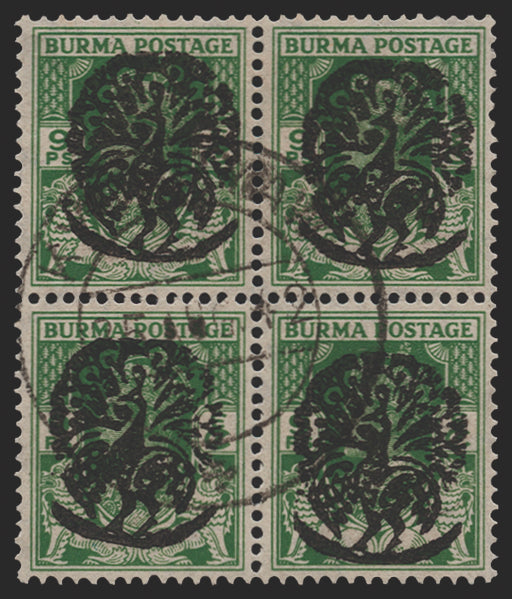 Burma 1942 9p Myaungmya 9p yellow-green, SGJ14
Japanese Occupation of Burma 1942 (May) 9p yellow-green, type 2 peacock of Myaungmya, block of 4, centrally cancelled by "KYONPYAW" circular date stamp, dated "25 AUG 42", SGJ14.
Very scarce to find in a used block.
Stanley Gibbons catalogue value: £280++.
The Burma Independence Army, formed by Aung San in 1941, took control of the Delta area of the Irrawaddy in May 1942. They reopened a postal service in the area and the Japanese authorised them to overprint local stamp stocks with the Burma emblem of a Peacock.
BUY NOW: Order online, by phone +44 (0)1534 639 998, or via email info@paulfrasercollectibles.com
Payment & Security
Your payment information is processed securely. We do not store credit card details nor have access to your credit card information.