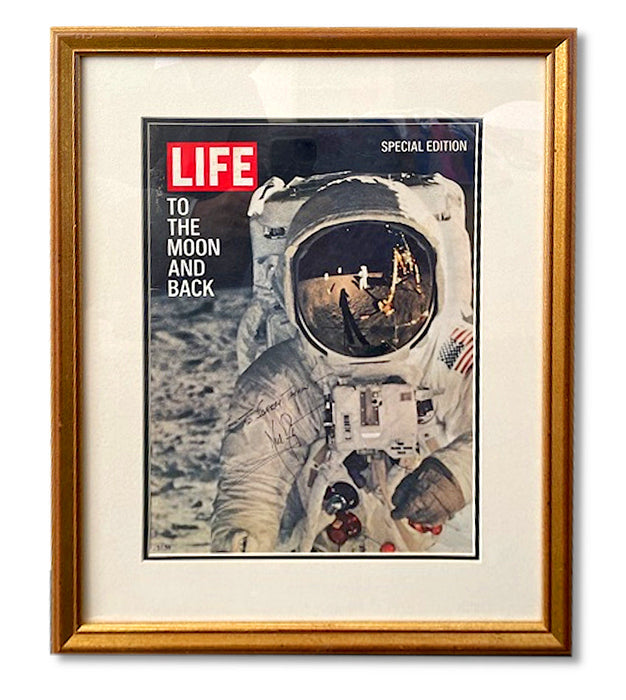 Neil Armstrong signed copy of Life magazine
A Life magazine cover signed by Apollo 11 astronaut and first man on the moon Neil Armstrong
Professionally matted and framed to create an iconic display piece
In 1969, Apollo 11 commander Neil Armstrong became the first person to set foot on the Moon. 
He was awarded a Congressional Space Medal of Honor for his efforts and has been decorated by 17 countries in total. Shortly after Apollo 11, Armstrong announced that he would not be flying into space again.
For one year he served as Deputy Associate Administrator for Aeronautics, NASA Headquarters and then went on to teach at the Department of Aerospace Engineering at the University of Cincinnati between 1971 and 1979. From 1982 until 1992 he was chairman of Computing Technologies for Aviation Inc.
A ninety five page Special Edition of Life magazine produced in 1969 to celebrate the successful American moon landing mission.
Entitled 'To The Moon and Back' the publication contains numerous photographs of the Apollo 11 crew - Neil Armstrong, Buzz Aldrin and Michael Collins - taken throughout the lunar mission.
It also includes biographies of the three astronauts and photographs from their personal collections, as well as photographs of their families taken whilst they were watching the event on the television.
The front cover of the piece features a half length, colour photograph of Buzz Aldrin (with photographer Neil Armstrong in the reflection - the only photo that features Armstrong on the Moon).
It is signed by Armstrong and dedicated across a lighter portion in black ink "To Sherry Taxman, Neil Armstrong."
The magazine is professionally matted and presented in a beautiful gold frame, to form a stunning display measuring 15.5" by 19".
Thus is a truly iconic space image signed by one of the most important figures of the 20th century.

Provenance: ex Stanley Gibbons.
Click here to discover more about this item
Free global shipping. 28-day no quibble returns. Certificate of Authenticity and our Lifetime Moneyback Guarantee of Authenticity included.
Payment & Security
Your payment information is processed securely. We do not store credit card details nor have access to your credit card information.